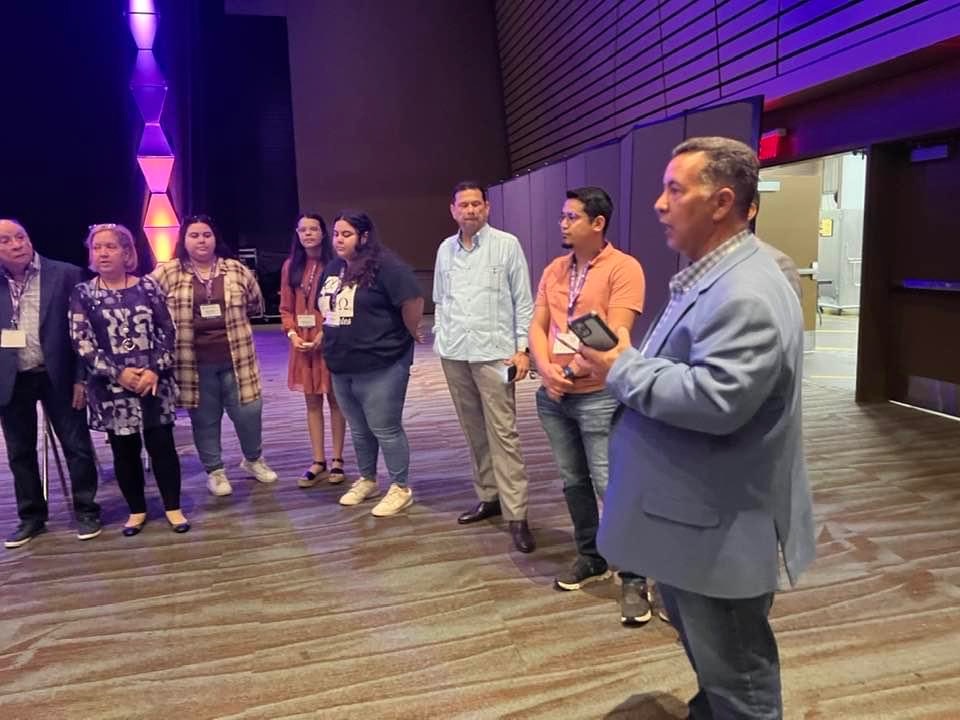 Perez to be nominated as FBSC 1st vice president
Pictured Above: Pastor David Perez of Casa de Bendición in Saint Cloud leads a prayer circle before the Hispanic dinner and celebration before the SBC annual gathering.
David Perez, pastor of Iglesia Casa de Bendicion in St. Cloud and director of prayer for the National Hispanic Baptist Network, will be nominated by Manuel Barahona, pastor at Westside Baptist Church in Boynton Beach, to serve as 2023-2024 first vice president of the Florida Baptist State Convention.
"Pastor David Perez is a man who loves the Lord. I've known David for approximately four years. He is an example to us pastors with his ministry and family life, but what caught my attention is his leadership among pastors," said Barahona, who serves as president of Florida Baptists' Hispanic State Fellowship. Barahona noted that Perez began traveling throughout the Sunshine State during 2020, even as COVID was raging, to encourage Hispanic pastors to launch concerts of prayer.
Soon, members and leaders in Florida Baptist Hispanic churches, Barahona said, "were praying and seeking God together with more intensity," resulting in what Emanuel Roque, Hispanic church catalyst for the Florida Baptist Convention, described as a "Great Commission movement."
Perez currently leads a daily morning devotional and prayer time on Facebook, Barahona said.
"He was passionate then about us coming closer to God as leaders and members of churches and continues to be passionate till this day," he said.
Today the state emphasis on prayer among Hispanic pastors has grown into a national concert of prayer.
In response, Perez, who has served as a pastor of Casa de Bendicion for 13 years, said that "being nominated is an undeserved privilege, I want to always be willing to serve where God wants and where I can be useful."
Perez continued, "If I were elected, my priority would be to support the president's vision from my own perspective, contribute ideas taken from my experiences within the Hispanic leadership of the convention, promote the priority of prayer as an integral part of the work of the ministry, and serve with all my heart in the extension of the kingdom of God, the unity and edification of all the churches and ministries of Florida Baptist Convention, only if that is God's will for my life."
The annual meeting of the Florida Baptist State Convention is set to meet Nov. 12-14 at Idlewild Baptist Church in Lutz.