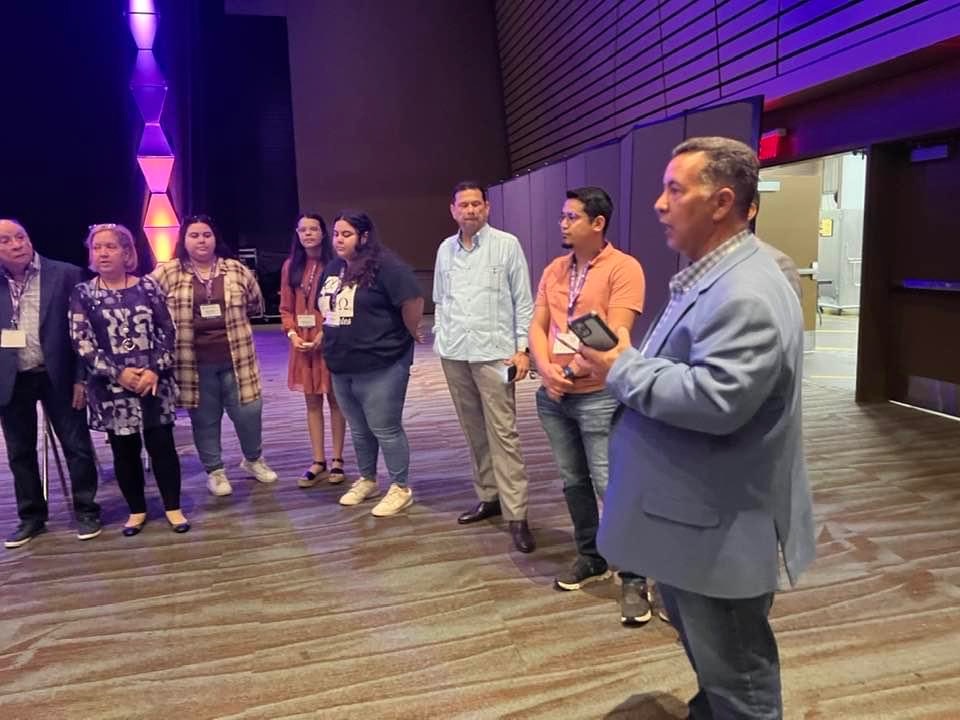 Pérez será nominado como 1er vicepresidente de FBSC
Pictured Above: Pastor David Perez of Casa de Bendición in Saint Cloud leads a prayer circle before the Hispanic dinner and celebration before the SBC annual gathering.
David Pérez, pastor de la Iglesia Casa de Bendición en St. Cloud y director de oración de la Red Nacional Bautista Hispana (National Hispanic Baptist Network), será nominado por Manuel Barahona, pastor de la Iglesia Bautista Westside (Westside Baptist Church) en Boynton Beach, para servir como primer vicepresidente de 2023-2024 de la Convención Estatal Bautista de Florida (Florida Baptist State Convention).
"El pastor David Pérez es un hombre que ama al Señor. Conozco a David desde hace aproximadamente cuatro años. Él es un ejemplo para nosotros los pastores con su ministerio y vida familiar, pero lo que me llamó la atención es su liderazgo entre los pastores", dijo Barahona, quien se desempeña como presidente del Compañerismo Estatal Hispano de los Bautistas de Florida. Barahona señaló que Pérez comenzó a viajar por todo el Estado del Sol durante el año 2020, incluso cuando COVID estaba en su apogeo, para alentar a los pastores hispanos a lanzar "Conciertos de Oración".
Pronto, los miembros y líderes de las iglesias hispanas bautistas de Florida, dijo Barahona, "estaban orando y buscando a Dios juntos con más intensidad", lo que resultó en lo que Emanuel Roque, catalizador Multicultural Hispano (Hispanic) para la Convención Bautista de Florida (Florida Baptist Convention), describió como un "movimiento de la Gran Comisión".
"Pérez en la actualidad dirige diariamente un devocional matutino y un tiempo de oración en Facebook", dijo Barahona.
"Le apasionaba entonces que nos acercáramos a Dios como líderes y miembros de iglesias y continúa siendo apasionado hasta el día de hoy", dijo.
Hoy en día, el énfasis estatal en la oración entre los pastores hispanos se ha convertido en un concierto nacional de oración.
En respuesta, Pérez, quien ha servido como pastor de Casa de Bendición durante 13 años, dijo que "ser nominado es un privilegio inmerecido, quiero estar siempre dispuesto a servir donde Dios quiera y donde pueda ser útil".
Pérez continuó: "Si fuera elegido, mi prioridad sería apoyar la visión del presidente desde mi propia perspectiva, contribuir con ideas tomadas de mis experiencias dentro del liderazgo hispano de la convención, promover la prioridad de la oración como parte integral del trabajo del ministerio, y servir con todo mi corazón en la extensión del reino de Dios, la unidad y edificación de todas las iglesias y ministerios de la Convención Bautista de Florida, solo si esa es la voluntad de Dios para mi vida".
La reunión anual de la Convención Estatal Bautista de Florida se reunirá del 12 al 14 de noviembre en la Iglesia Bautista Idlewild (Idlewild Baptist Church) en Lutz.