"Por tanto, vayan y hagan discípulos de todas las naciones, bautizándolos en el nombre del Padre y del Hijo y del Espíritu Santo, enseñándoles a obedecer todo lo que les he mandado a ustedes. Y les aseguro que estaré con ustedes siempre, hasta el fin del mundo."   

Mateo 28:19-20
.
"Espera grandes cosas de Dios e intenta grandes cosas para Dios."
"Enfoca y esfuérzate en glorificar a Cristo a través del evangelio, y El será fiel en cumplir Su misión y propósitos en tu vida y Su iglesia."
"Que vivan con toda humildad y mansedumbre, con paciencia, soportándose unos a otros en amor, esforzándose por preservar la unidad del Espíritu en el vínculo de la paz" (Efesios 4:2-3 NBLH). En la Antigua Grecia había una notable rivalidad entre la ciudad de Esparta y la ciudad de Atenas. Esparta era una ciudad que era
EVENTOS ESTATALES CON LAS IGLESIAS (2018)
"¡Afilado!" (Sharper!): Conferencia de Ministerio por Iglesias y Para Iglesias: Febrero 24  (En Español-Iglesia Bautista Northside, Hialeah)
Retiro de Pastores y Esposas: Abril 12-14, Lake Yale  (Exhortamos a que las Iglesias incluyan en sus presupuestos una ayuda para que sus pastores y esposas puedan asistir al retiro. Las Iglesias van a ser beneciadas.)
Domingo de Bautismos- Hechos 2:41: Mayo 6 – Bautismos en lugares públicos alrededor de toda Florida
Congreso de Años Dorados: Mayo 17-19, Lake Yale
Reuniones de la Confraternidad Hispana Estatal: Agosto 11- Sur de Florida, Agosto 18-Central-Iglesia Cruz de Vida, Oveido, Agosto 25, Norte, FBC Panama City
Campamento de Adultos Jóvenes y Retiro de Matrimonios: Sept. 1-3, Lake Yale
Conferencia Hispana de Evangelismo, Octubre 27, Iglesia Bautista Estrella de Belén, Hialeah
Convención Estatal de Florida: Noviembre 12-13, Miami
Programas Regionales:
Encuentro Regional de Años Dorados, St. Augustine, Feb, 3
Entrenamiento de Alivio de Desastres, Abril 7, Centro Regional Sur Este, Hialeah
Cumbres de Estudio Bíblico y Liderazgo (Marzo: 10-Miami, 17-Orlando, y 24-West Palm)
Nacional: 
Convención Bautista del Sur, Junio 11-13, Dallas, Texas
History being made as Pastor Carlos Tellez preaches the convention sermon in Spanish.
"What Florida most needs is Christians who will have their #eyesoneternity" -Pastor Carlos Tellez.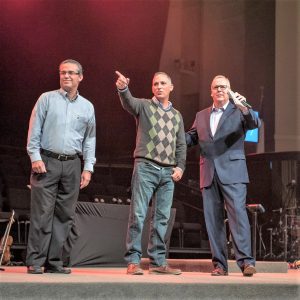 Right Beside You: Multicultural Report with Emanuel Roque, Hispanic Church Catalyst, Pastor Alexis Estevez and Dr. Tommy Green, Executive Director-Treasurer