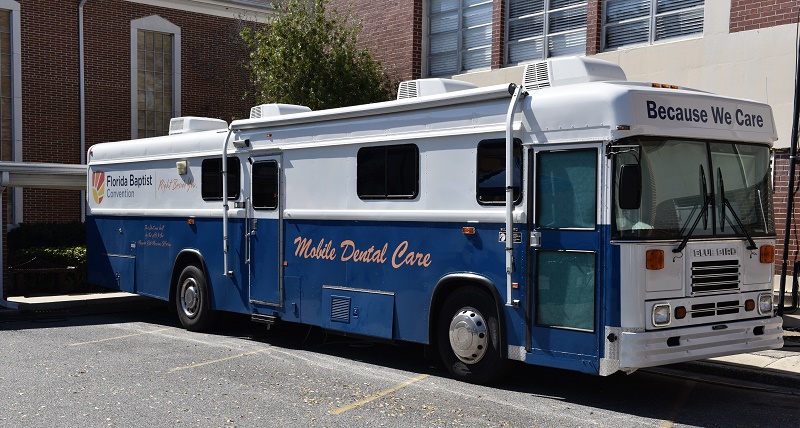 Florida Baptist churches and associations may reserve the dental unit. The church or association serves as sponsor of the dental project.  This sponsor is responsible for establishing a local project planning team, enlisting patients, and recruiting dental care professionals, as well as planning for an evangelistic ministry in tandem with the dental ministry.
The Florida Baptist Mobile Dental Unit stays in high demand. Schedule for 2023 is full but at times cancellations occur. If you want the unit for a project in 2023, contact the Community Ministries Catalyst to discuss.
2024 Mobile Dental Unit Requests are being received now.
Note:
We will try to honor the first or second choice. However, often several Associations/Churches request the same weeks. Where possible, we try to put projects together that are in the same general location, such as the Panhandle, South Florida area, etc. This helps to save mileage on the unit and the travel time for our coordinators.
Florida Baptist Convention will do the following:
1. Provide a project planning manual and personal consultation with the planning team.
2. Provide the mobile unit and dental supplies.
3. Provide a Mobile Dental Unit Coordinator.
The Association or Church will need to do the following:
1. Schedule, budget and begin planning six to seven months prior to the project.
2. Follow each step in the project planning manual. Revisions are made annually.
3. Provide housing and meals for the coordinators.
4. Enlist dentists, dental assistants and other health professionals as needed.
5. Work with your Department of Health related to sovereign immunity.