Annual Meeting Highlights
2018 Florida Baptist State Convention
Florida Baptists gathered Nov. 12-13 for the 157th annual meeting of the Florida Baptist State Convention at Wayside Baptist Church in Miami. Under the theme 'Faithfulness,' 827 messengers representing 374 churches from around the state voted on business, received ministry updates and heard from fellow pastors about some of the ways God is moving to reach the entire state of Florida with the Gospel through local churches. With the addition of guests, the crowd swelled to 1,201 in total attendance.
Stephen Rummage, pastor of Bell Shoals Baptist Church in Brandon and outgoing State Convention President, closed the first session of the meeting by sharing strategies for increasing faithfulness in your life. One such indication of faithfulness, Rummage said, is sacrificial giving. Rummage pointed to our Disaster Relief volunteers as people who have sacrificially given of themselves in the wake of Hurricane Michael. Rummage then honored those who had traveled
from the panhandle to attend the meeting and they were given a round of applause.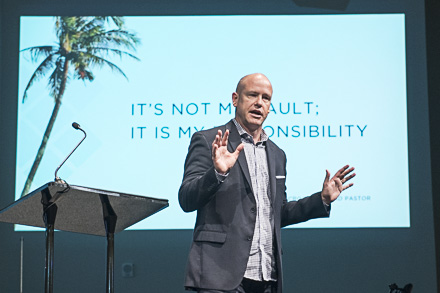 Tommy Green, executive director-treasurer of the Florida Baptist Convention, expanded on the 'Faithfulness' theme by identifying what faithful ministry is and what it is not.
"Faithful ministry is not building your name, staking your claim, seeking fame or playing a game," Green told the crowd. "It is through [Jesus] and for Him that we lay down our lives for the glory of Jesus Christ."
Jimmy Scroggins, pastor of Family Church in West Palm Beach, said part of our faithfulness is being faithful to reach the lost.
"People believe that religious people will push them out and push them down but Jesus pushed back on that narrative," Scroggins said. "He draws them in and lifts them up."
Messengers approved a $30 million budget, the same amount budgeted for the current year. In keeping with Florida Baptists' desire to give away more than we keep, 51%, or $15,300,000, will go to the Cooperative Program of the Southern Baptist Convention and 49%, or 14,700,000, will stay within Florida for Florida Baptist ministries. Mike Orr, pastor of First Baptist Church in Chipley and president of the Florida Baptist State Board of Missions, said the generous giving of Florida Baptists is a sign of the maturity of our churches and our commitment to the Gospel.
"There are people who will hear the Gospel for the first time because people like you gave generously," he said.
Green also announced that 100% of all budget overages would immediately be forwarded to the Southern Baptist Convention Cooperative Program.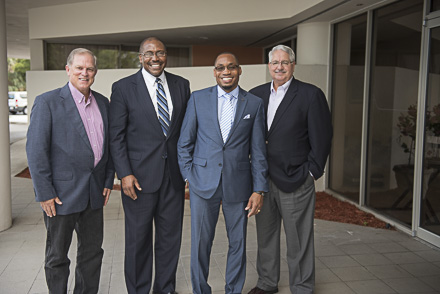 Erik Cummings, pastor of New Life Baptist Church in Carol City and this year's president of the Pastor's Conference, was unanimously elected as 2019 State Convention President. During his nomination speech, Willy Rice, pastor of Calvary Church in Clearwater, noted how Cummings has served his church and Florida Baptists well for many years and now is the perfect time for him to lead our State Convention.
"Our fellowship is a diverse one and Erik is a voice calling leaders to unite in the Gospel movement of the Florida Baptist Convention," Rice said. "A nation that is coming apart needs to see a church that is coming together. This is our Convention and this is the right leader to serve as president."
Rice's remarks were met with thunderous applause and immediately following the vote Cummings received a standing ovation.
Mike Wiggins, pastor of Pine Terrace Baptist Church in Milton, ran unopposed and was elected first vice president. Ralph Alderman, Jr., a lay leader from Exciting Central Tampa Baptist Church was elected to his second term as second vice president and Randy Huckabee, pastor of First Baptist Church in Dade City, was elected recording secretary, a role he has held for the last 12 years.
Among notable business, a recommendation was made to make changes to the language of three Convention bylaws in order to make it easier for all churches to cooperate with the Florida Baptist Convention.
"The proposed bylaw change responds to decisions being made by our Florida Baptist churches," Green recently said. "The desire of the Florida Baptist Convention in this proposed change is to continue to provide a pathway for cooperation and participation for all Florida Baptist churches."
A recommendation was also made to adopt the title 'Associational Mission Strategist," which will replace the former associational leader title 'Director of Missions' in keeping with the change already adopted at the national level.
Throughout the meeting, various groups and ministries gathered for encouragement and refreshment, including Hispanic, Haitian and Black and Multicultural church leaders. Florida Baptist pastors held breakout sessions during each meal break so pastors could learn from each other in areas such as church planting and revitalization, church multiplication, evangelism and baptism. A panel discussion was held, introducing people to Write Beside You, a new public school initiative that would see every Florida Baptist church partnered with a public school in its community. Ministers' wives gathered for a luncheon and the Clyde M. Maguire Award for Ministers' Wives was awarded to Gail Heuer, wife of Pat Heuer, pastor of Flagler West Community Church in Bunnell.
The 2019 meeting of the Florida Baptist State Convention will be held Nov. 11-12 in Orlando.
By Nicole Kalil, Florida Baptist Convention, November 14, 2018