For stories and videos about Florida Baptists and ministries featured in the prayer guide, go to: State Mission Offering Stories and Resources
SMO – State Mission Offering and Week of Prayer:  The State Mission Offering and Week of Prayer is Sunday, September 10 – Sunday, September 17.  However, materials are undated for churches to observe the emphasis at any time.
State Mission Offering at a Glance
Theme: #SENDSOUTHFLORIDA "Come Over . . .And Help Us"
Scripture: Acts 16:9, "That night Paul had a vision. In his dream he saw a man over in Macedonia, Greece, pleading with him, 'Come over here and help us.'"
Focus: The 2017 State Mission Offering will be totally dedicated to funding new initiatives in South Florida through a partnership between the Florida Baptist Convention and North American Mission Board. This re-launched partnership calls for a greater Kingdom vision with more engagement, more commitment and more involvement to reach three South Florida counties—Miami-Dade, Broward and Palm Beach—where more than one-third of the state's population resides.
Feature: South Florida church planters
Why a state mission offering? Because 75 percent of Florida's 20 million population—15 million—do not have a saving relationship with Jesus Christ. With more than a third of the population in Florida, 95 percent of South Florida's population is unchurched.
 State Goal: $830,000
100 percent of the State Mission Offering will be earmarked for church planting, church revitalization and church restarting in South Florida
No funds are allocated for promotion
To help you promote the offering in your church, these SMO materials are available:
Videos:  The following videos can be downloaded to show during worship, prayer groups and mission studies.
This series of four videos can be shown each Sunday in September and features Dr. Green explaining the Send South Florida initiative and the goal offering.
Intro to Send South Florida
Our Opportunity
Bringing the Gospel
Biblical Mandate
Materials:
Poster – The 2017 State Mission Offering poster is available in English, French and Spanish
Offering Envelope – The offering envelope is provided in English and can be used for multiple years
Mission Study – A mission study designed to give ideas to share the story of Florida Baptists' efforts to reach Florida and beyond is available for you to download. Click Here.
TO ORDER FREE PROMOTION MATERIALS IN ANY QUANTITY CLICK TO VISIT OUR STORE
SMO –  State Mission Offering Resources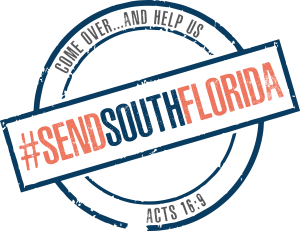 SMO English Logos
Spanish Logos  |  French Logos