Florida Baptist church partners with New England Baptists for gospel outreach
Pictured above: Missionaries from Blackrock Baptist Church get ready to travel to New England.
YULEE—The birthplace of the Great Awakening, which revived spirituality and a personal relationship with God almost 300 years ago, New England is now dotted with boarded-up church buildings and is considered one of the most unreached and unchurched regions in the nation.
According to the North American Mission Board, fewer than 3% of New England's 14.8 million people attend an evangelical church. To help penetrate the spiritual darkness and impact the Northeast with the gospel, Florida Baptist churches, like Blackrock Baptist Church in Yulee, are partnering with the Baptist Convention of New England,  which serves approximately 380 churches spread across Connecticut, Rhode Island, Massachusetts, Vermont, New Hampshire and Maine.
After attending a vision trip to New England last September with then-regional catalyst Craig Culbreth, John Kasper, pastor of Blackrock Baptist Church since 2014, said that God stirred in his heart a love for the Northeast region and a desire to serve the local churches and pastors there.
"It is important for us to serve in the Northeast because our Baptist brothers there do not have the friendships and partnerships like we are blessed with here in Florida," said Kasper.
After personally seeing the lostness in New England, Kasper said that God developed in him a desire to see "Yulee and beyond know that Jesus Christ is the only hope we have and that He can provide refreshed living." Close to a year after the vision trip, Kasper returned to New England, this time with a church mission team. The Blackrock team made the 1,098-mile trip to Northborough, Massachusetts—where the BCNE is located.
Strategically located in the center of the Northeast, where 20% of the American population lives, the BCNE is utilizing its central location and housing lodge as an opportunity to mobilize mission teams for greater kingdom impact. Despite the overwhelming lostness in the Northeast, New England Baptist churches have reported increased baptisms for seven of the past eight years.
"Prior to going on this trip, most of our people had no idea of the lostness in the Northeast, and they were not aware of how few evangelical churches are present in the communities in New England," said Kasper.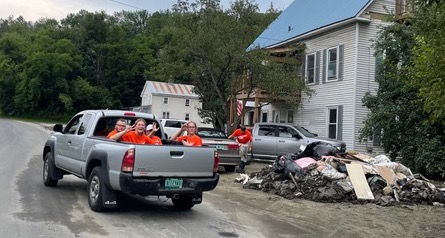 Partnering with Iglesia Casa de Oracion in Worcester, Massachusetts, the Florida Baptist church hosted a community-wide block party, mobilized teams and canvassed neighborhoods. The team also helped with relief efforts in the aftermath of recent Vermont flooding.
Kingdom impact
As Kasper preached at Iglesia Casa de Oracion, the 14-person Blackrock team rejoiced when three young men made professions of faith in Jesus Christ as their Savior. The group also saw several families, who had never attended church before, show up for the Sunday service, all as a result of the community block party.
"That morning we witnessed a tremendous altar call, and three young men received Jesus Christ as their Savior," said Kasper. "There were also multiple stories and testimonies from Iglesia Casa de Oracion members who were so encouraged and inspired that we would take the time and spend the resources to come and build a partnership with them."
Kasper encourages other Florida Baptists to partner with New England churches for greater kingdom impact.
"This work is much bigger than Blackrock Baptist," he said. "If anyone is interested in linking arms with us to plant lighthouses in New England, do not hesitate to reach out."
"I believe it is critically important for Florida Baptist churches to branch out from their comfort zones and go into other regions and countries. … We have been blessed with so much, and I do not believe God wants us to keep it here in Florida."
"Our plan is to continue our partnership with Iglesia Casa de Oracion and serve those in the Northeast until God tells us to stop."