Despite Power Outage, First Baptist of Madison Serves Hundreds of Meals to First Responders, Residents After Idalia
MADISON­–Like most of the surrounding area, First Baptist Church of Madison was without electricity last week due to Hurricane Idalia, but it didn't stop its members from preparing and serving hundreds of meals each day to first responders, local residents and a growing Emergency Management team.
I think this is the epitome of what it is to love God and love your neighbor. We're reminded of Jesus' words to let our light shine before men. We prayed with our neighbors and encouraged them and showed them that we cared about them.
When Idalia passed through Madison County with its 120 mph winds Aug. 30, it knocked down plenty of trees and power lines, causing power outages throughout the county. But the church's gas lines were not impacted, leaving its stoves and cooking equipment fully operational. With that in mind, the church's kitchen team jumped into action Wednesday afternoon, just hours after the hurricane passed through town.
Pastor Aaron Hale said he met with June Malin, captain of the kitchen, earlier in the week to talk about having provisions on hand to prepare some meals should they be needed.
"When the storm was over Wednesday, she had food cooking already and had developed a plan for meals for Thursday and Friday," he said. These included a chicken and rice dish one night and chicken salad sandwiches for lunches.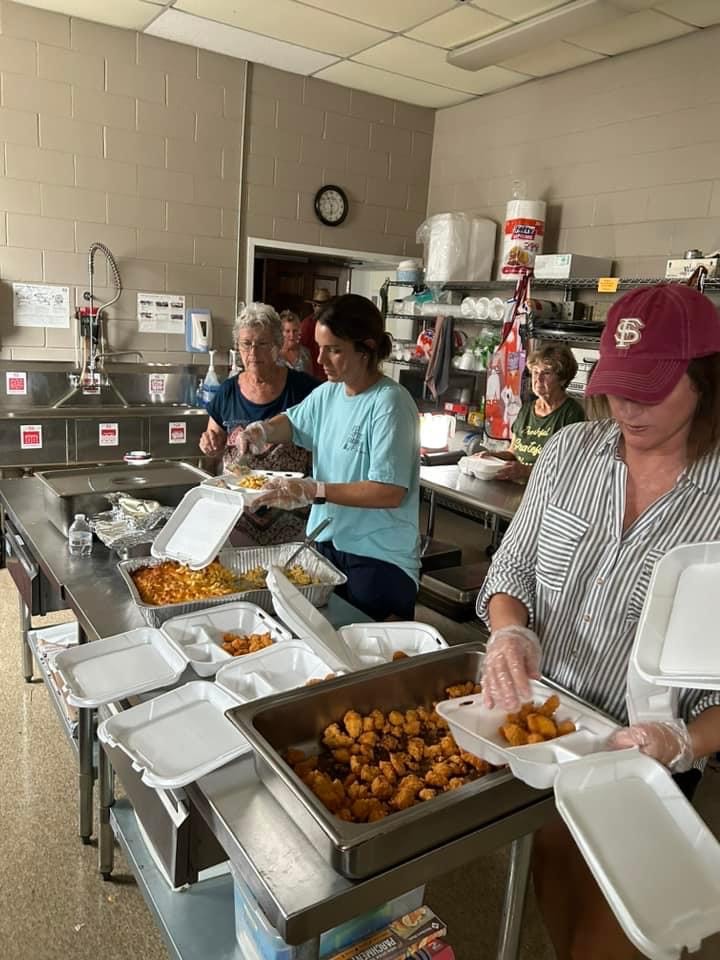 It started off with Malin and her normal kitchen team preparing meals on that first day, but then about 25 or 30 church members joined in to assist. In addition to buying more provisions for the meals, the church also began receiving donations of food from a host of individuals, businesses and organizations.
They started off providing several hundred meals for the Madison County Emergency Management Team, plus the fire department and the police department, which were all delivered by church volunteers. On Thursday they provided about 250 meals. But as food donations and volunteers increased, so did the number of prepared meals.
The church prepared and served about 300 meals between lunch and dinner on Friday for first responders and emergency management teams, and then another 250 meals for dinner that night for local residents via drive-up service at the church. During this time, members prayed and encouraged those in line for food and gave out toiletry items that had also been donated to the church.
The church had no electricity, but a generator was used to run a small window air conditioning unit in the kitchen, and volunteers helped store some provisions in their homes.
Hale said he was proud to see members of his church working so hard to help and encourage the people of their community.
"Man, it was super encouraging for me as their pastor," he said. "Our people really rallied and were exercising their faith. The meals were one of the primary ways we could serve our community."
In addition to the kitchen team, the church also sent out a couple of chainsaw crews to help remove trees and debris at the homes of its elderly members and other residents.
"There were trees down everywhere, but we were really thankful that it wasn't worse," he said.
Leigh Basford, Madison County Emergency Management Director, said the meals were a blessing during the chaotic days following the storm.
"First Baptist of Madison is my home church and I'm extremely thankful for the support of our congregation along with many other business and faith based organizations during Hurricane Idalia," she said. "It was a blessing to have the meals provided amongst the chaos of our response showing Madison's commitment to our community."
In the spirit of the Labor Day holiday, the team prepared about 150 boxed lunches that included hot dogs, baked beans and macaroni and cheese. These were delivered to the police department and also made available to local residents.
While power was still out in some parts of the county on the Tuesday following Labor Day, more and more homes and businesses – including several restaurants – had their power restored so the decision was made to stop the hurricane meals.
But what hasn't stopped is this church's love for their community.
"I think this is the epitome of what it is to love God and love your neighbor," Hale said. "We're reminded of Jesus' words to let our light shine before men. We prayed with our neighbors and encouraged them and showed them that we cared about them."