PENSACOLA – Why were students at Hillcrest Baptist Church in Pensacola celebrating with shouts of joy and lots of confetti falling as they gathered around a wooden cross with 100 lightbulbs brightly shining?
On Wednesday, March 16, Hillcrest's student ministry celebrated the 100th student being baptized after student ministry leaders had challenged middle school and high school students to have 2,000 gospel conversations with their peers.
Believing that if students were faithful to share the gospel, God would be faithful to bring people into relationship with him, student leaders Dustin Scott and Jeremy Weidlich had the idea for a wooden cross with 100 lightbulbs to stand as a marker for each student who followed in believer's baptism.
After creating the challenge, student ministry leaders discovered young people show up with fearless faith, sharing the gospel, and God also shows up, drawing students into a relationship with Jesus.
"There have been many times I've left conversations with students thinking to myself, 'Man, I need to learn boldness from these guys,'" said Scott, next gen pastor.
"There have been many times I've left conversations with students thinking to myself, 'Man, I need to learn boldness from these guys.'"
As the 100th lightbulb was placed in the cross, Student Pastor Weidlich said, "This was a moment we've desired for a long time. Every student and every leader played a part in this process. The students were so encouraged by what the Lord has done that they immediately began asking what the next challenge will be. They are ready."
As the challenge began, students were given different strategies for sharing their faith, including the 3 Circles evangelism strategy, developed by Jimmy Scroggins, pastor at Family Church in South Florida. Students found accountability in weekly connect groups where they shared what worked, what didn't work and what they learned from their experiences. They were further encouraged to share their personal testimonies, as that would make a big impression on their friends.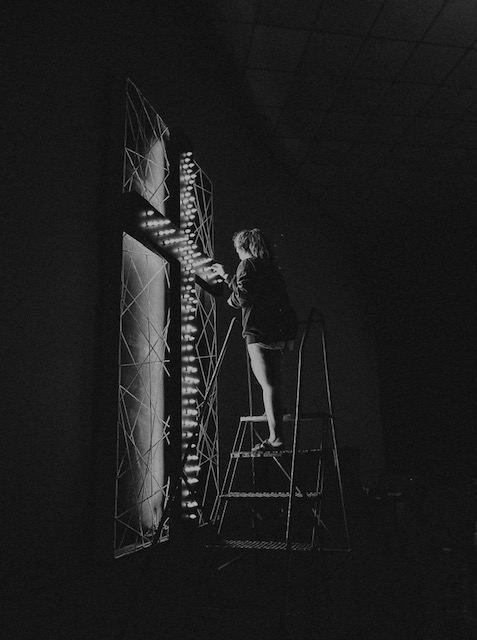 From the platform, leaders kept the goal in front of the students, reminded them to stay focused on the Great Commission in Matthew 28:18-20, and celebrated big wins.
"The response each week, when someone comes to know Jesus, gets baptized, or puts a lightbulb in the cross, has been my favorite part of all of this. Our students cheer so loudly and rally together to celebrate this life change. It doesn't matter if the student is their best friend or a complete stranger, they celebrate their new brother or sister in Christ," said Corey Young, student ministry associate.
Gospel prevails over COVID
The wooden cross was revealed at a major youth event just one month before the world was hit with a pandemic that closed schools and churches and changed everyday interactions.
Weidlich shared, "Prior to COVID, the excitement for gospel conversations, salvations and baptisms was palpable. Post-COVID, it felt like everyone was slowly dipping their toes back into the water of everyday life, student ministry and gospel conversations included. COVID was a gut punch to our fun challenge, but ultimately the gospel prevailed, and we reached our goal."
During the course of meeting the goal, Weidlich moved into the role of student pastor as Scott moved from student pastor to next gen pastor, with both ministers still rallying students to have gospel conversations.
Sharpening one another
Weidlich finds the fervent faith of students encouraging and referred to 1 Timothy 4:12, "Let no one despise you for your youth, but set the believer an example in speech, in conduct, in love, in faith, in purity."
Regardless of age, people often enjoy the community of working together to achieve a goal, both leaders agree.
Scott shared, "Teens will hit the bar you set for them. Good things happen when you have a desire to reach a goal and to see people come to know Christ. They were sharpened by one another, which sharpened and challenged all student ministry leadership."