Student Ministry Network Maximizes Gospel Impact
When it comes to student ministry in Santa Rosa County, Joel Morgan is taking the team approach.
For several years now, Joel, who serves as college and student pastor at Immanuel Baptist Church in Pace, and other area student pastors join together to have a large Disciple Now weekend.
"[There were] over 600 in attendance and over 12 churches from Santa Rosa Baptist Association partnering together to serve the King," Joel said.
Without the Florida Baptist Convention and Next Gen ministries, Joel said area student pastors wouldn't be able to impact the number of students that they currently have had the privilege to serve over the years.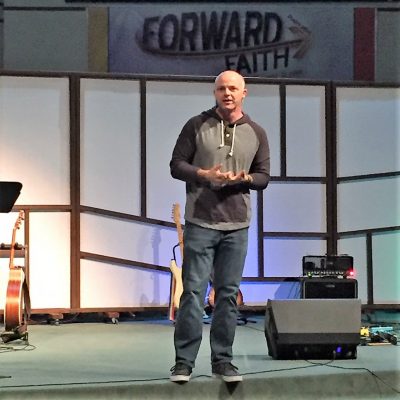 It's a model Billy Young, Florida Baptist Convention Next Gen Catalyst, would like to see replicated.
"The Florida Baptist Convention wants to come alongside networks that are carrying out evangelistic ministries," Billy said. "It's a small sampling of what we're trying to do across the state."
The ability to work together to pull off the area-wide D-Now event is having Kingdom-building ramifications for students attending different churches and different schools. Each year when students wear their D-Now t-shirts to school, they can easily identify other believers who also participated in the event, breaking down barriers and creating new connections.
"They realize they are all on the same team," Joel said.
Next Gen ministries not only partnered with Joel and his network of fellow student pastors to provide financial resources to make the event possible, but Billy Young also served as one of the speakers.
"It is good to see that "Right Beside You" isn't just a cool slogan, but something that the Florida Baptist Convention and the Next Generation Team stand behind and actually do," Joel said.
By Nicole Kalil, Florida Baptist Convention, January 2, 2018.