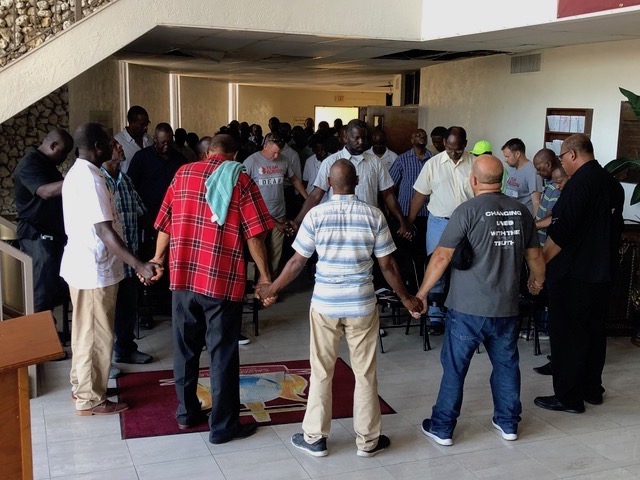 South Florida church brings hope and help to the Bahamas
MIAMI- In the three weeks since Hurricane Dorian devastated the Bahamas, Iglesia Real in Hollywood has sent three plane loads of much needed supplies to help people on the islands recover and rebuild.
Through its "Come Over Ministry," the church has partnered with businesses, churches, pastors and pilots to supply Freeport churches with food, water, equipment and even school supplies. Volunteer pilots from Banyan Air and National Air Transport have done 44 flights and have partnered with Iglesia Real in the recovery effort.
Among their ministry partners is Banyan Air Service, which allowed the church to store donated supplies in their hangar before they were flown to the island by volunteer pilots.
Once supplies were airlifted to the islands, church members organized Hope and Help Centers throughout the hard-hit Grand Bahama island to ensure help would get to needy people.
Iglesia Real pastor Martin Vargas has flown to Freeport twice since the storm. Before the donations started arriving, he met with 70 pastors there to coordinate the deliveries. "
There is a great unity among the pastors in the islands crossing denominational lines," he reported. "Seeing people who have lost everything waiting for the help in a peaceful, patient and controlled way and trusting God to bring the help, this is not usual but encouraging."
Calvary Temple in Freeport is one of several locations on island where Iglesia Real has stationed much needed essentials. Each site has received a generator, water filtration system and chainsaws.
Calvary's pastor, Robert Lockhart, said the church has been feeding over 600 people a day, and when combined with other churches, are preparing and serving more than 10,000 meals to the struggling community.
Raoul Ambrister and his wife Karen have been ministering in the Bahamas for 18 years and are now trying to help the people who have lost everything and can't sustain themselves or their families.
The help they have received through Come Over Ministries has been "essential," Ambrister said. "It is our job and responsibility to get them into the hands of the people. We are excited about being the hands and the feet of God."
Come Over Ministry, the church planting arm of Iglesia Real, started in 2006 and is modeled on Acts 6:9, Vargas said.
"God made it clear what our mission was as the church–to come over and help people. I had no idea what I was coming over to, but God has been opening doors." The group has ministered in Bolivia, Dominican Republic and Cuba among others.
"Through tragedies God has allowed us to plant churches."
Vargas asks for prayers so that pastors may know how to prioritize the help among the people who need it most.