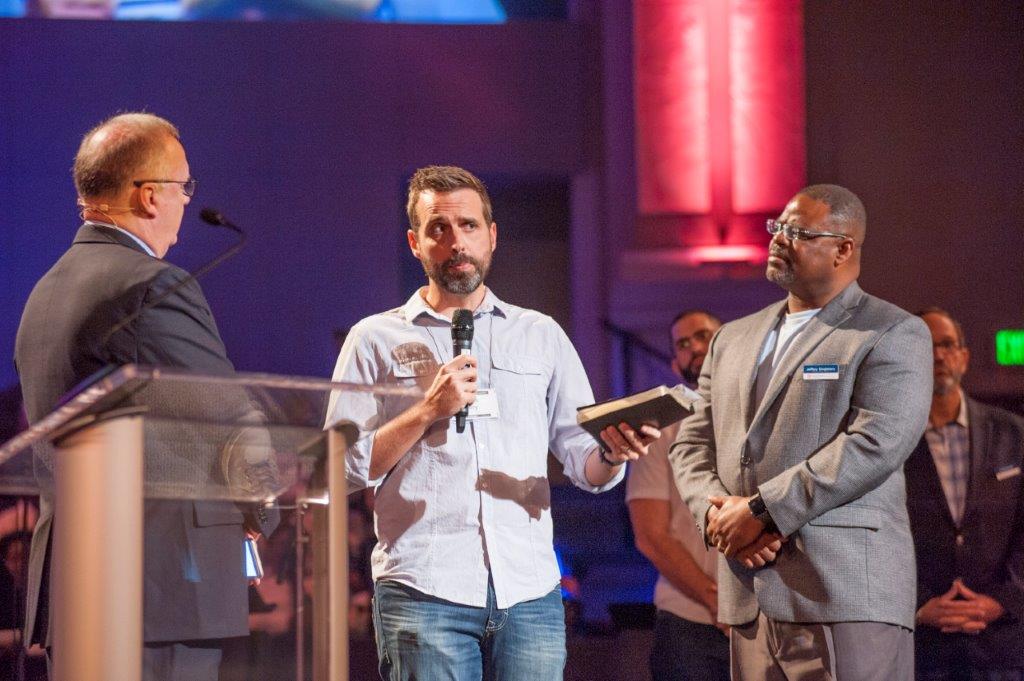 Florida Baptists share 'Right beside you' testimonies
Highlighting the Florida Baptist Convention's guiding principle to be "Right Beside You," Florida Baptist Executive Director-Treasurer Tommy Green interviewed 16 church leaders during the 2016 state convention annual meeting held at Calvary Baptist Church, Clearwater.
Each interview demonstrated how Florida Baptist state, associational and church leaders work cooperatively to advance the gospel message in Florida and beyond. Here is a glimpse of those interviews:
Right beside you: Regional and Multicultural
Gary Martin, pastor of Crossroads Baptist Church in Cottondale, described his church as multicultural and multigenerational. When Martin agreed, after much prayer, to pastor the church, it had already closed its doors. Chipola Baptist Association director of missions Coba Beasley and Florida Baptist regional catalyst Lewis Miller have walked "hand-in-hand" with the pastor and church, helping in revitalization efforts, he said. "We're going forward in the cause of Christ, reaching people and asking them to have a relationship with the Lord Jesus Christ."
Noel Lozano, pastor of Turning Point Church, a bilingual congregation in Miami, discussed how his church has helped launch a second congregation in Little Havana, in a primarily low-income community. Because many of the people there struggle with hunger, Turning Point Church, in conjunction with Florida Baptist Global Hunger Relief, has helped address those hunger needs, feeding as many as 150-to-200 families weekly. After having their physical needs met, community residents are more open to hearing the good news of Jesus Christ, Lozano said.
David Drake, director of missions, Northeast Baptist Association, said that the partnership between Northeast Association and the Florida Baptist Convention "has sped up the process when churches come to me and say, 'We have a need.'" Acknowledging his friendship with Glen Owens, the Convention's Northeast Florida regional catalyst, Drake said, "Anytime I have asked for something, he has always been willing to step forward and help me." Drake emphasized several associational events–made possible through the state convention's partnership with his association–that have helped strengthen the churches in his association.
"We have had the privilege of standing on faithful Florida Baptists … standing on their shoulders of faithfulness and longevity. Now it's a joy for us by the grace of God to allow our shoulders to hold up some faithful churches," said Justin Perry, pastor of Covenant Life Church, Tampa. He has led his young congregation to plant another church in nearby Seminole Heights. "We believe there is a theological and biblical conviction and a biblical precedent to be faithful to plant churches. When people say, 'Why did you do it so early in the life of the church?' We wanted to do it early because we wanted to set a DNA for years and years ahead."
Angel Garcia, associate pastor of Homestead's Core Community Church, shared that one of his tools for reaching and discipling young people in his community has been through summer camps. This past summer Garcia experienced unexpected roadblocks to the camp when the location used in past years was unavailable. He found another location, but it lacked necessary shower facilities. At that point the Convention's Southeast Florida regional catalyst Al Fernandez stepped in and offered a subsidy to rent shower facilities so that the camp could go on as planned and young lives could be transformed by Jesus Christ.
Right beside you: Next Generation
Calvin Carr, pastor of North Central Baptist Church, Gainesville, discussed his church's passion for reaching students at nearby University of Florida. The church seeks to evangelize and disciple many students who come its way through the ministry of Baptist Collegiate Ministries (BCM). Recently Carr baptized two students who made professions of faith after the student BCM president shared the gospel message with them. Carr said he is thankful for Florida Baptists' commitment to collegiate ministry that is reaching the next generation for Jesus Christ.
Beau Bredow, minister of children and education, Scott Lake Baptist Church in Lakeland, believes that Vacation Bible School (VBS) is an effective way to reach not only children but also their parents. After he received VBS training through the association, which worked in partnership with Florida Baptists' Next Generation Ministries, Bredow now helps train other leaders throughout Florida in reaching people for Christ through VBS.
Right beside you: Missions and ministry
Representing Family Church, West Palm Beach, women's ministry leader Virginia Hansen shared how her church does community service projects and outreach in their community while also participating in multiple mission trips to Cuba annually. The purpose of each of these activities, she said, is to share the gospel message, explaining, "Gospel conversations lead to gospel congregations." Her partnership with Cindy Bradley, Florida Baptists' catalyst for women's missions and ministries/missions education, undergirds these outreach efforts, she said.
Pastor Juan Gonzalez, who serves First Baptist Church, Wimauma, described the blessing of his congregation, composed of many migrants and blue-collar workers, receiving the gift of a building as a much-needed permanent home. However, the building had many issues, including electrical wiring problems and a leaky roof that needed immediate attention. Through the generosity of other congregations, the local association and the Florida Baptist Convention, the congregation was able to make necessary repairs and is looking forward to a future of reaching and discipling people for Christ in that community.
Tim Folds, pastor of First Baptist Church in Graceville, said being involved in disaster relief ministries in Crystal River this year was the impetus for a young man who served on the mission trip to rededicate his life to Jesus Christ. That young man also to lead other members of his family to make professions of faith. Folds is grateful for the opportunities and training offered by Florida Baptists in this strategic ministry that touches people with Christ's love when they are often at their most vulnerable.
By Margaret Colson, Florida Baptist Convention, November 22, 2016