If you need some encouragement when it comes to being more intentional about sharing your faith, you won't want to miss the evangelism conferences that will be taking place all around Florida over the next several months.
Tommy Green, executive director-treasurer of the Florida Baptist Convention, is encouraging everyone to attend one of the six regional conferences, which begin with the March 12th conference at Baptist College of Florida and will wrap up in October with the last conference being held at Iglesia Estrella de Belen in Hialeah.
"The Evangelism Conference provides an opportunity to hear from others about effective methods of sharing the Gospel in their ministry context," he said. "We will be challenged through dynamic worship and preaching to reach Florida for Christ."
Wayne Briant, Florida Baptist Convention Catalyst for Southwest Florida, hopes that inspiring and encouraging people to share their faith will ultimately result in pushing back lostness in our state.
"We have to do a better job as Southern Baptists at reaching our lost world," Briant said.
Each conference will consist of an afternoon and evening session featuring speakers whose goals will be to share how they're living out personal evangelism and give conference attendees some guidance on how they can too. Each registration comes with a free steak dinner and the conference is open to anyone.
This year marks the first time the Florida Baptist Convention has had six conferences in one year. Briant said while the southwest area has been having evangelism conferences for many years, last year was the first time they branched out, adding one at Baptist College of Florida accommodating 500 people at both conferences.
For more information or to register for the Evangelism Conference nearest you, click on your region.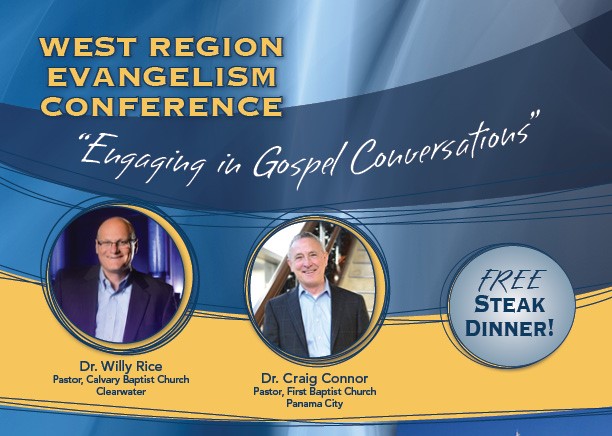 Graceville
Baptist College of Florida, R.G. Lee Chapel
March 12, 2018
4 pm – 8 pm
Lakeland
First Baptist Church at the Mall
March 13, 2018
4:00 pm – 8:50 pm
Sarasota
April 16, 2018
4:00 pm – 8:30 pm
Gainesville
April 30, 2018
3:30 pm – 8:15 pm
Palm Coast
First Baptist Church, Palm Coast
May 1, 2018
4:00 pm – 8:30 pm
SOUTHEAST REGION EVANGELISM CONFERENCE
Hialeah
October 27, 2018
8:30 am – 12:30 pm
Speakers – Dr. Tommy Green, Executive Director-Treasurer, Florida Baptist Convention
Pastor Javier Soto-Longo, pastor of Iglesia Estrella de Belen and First Vice-President, Florida Baptist State Convention
Dr. Matt Queen, Associate Dean of Evangelism, Southwestern Baptist Theological Seminary
By Nicole Kalil, Florida Baptist Convention, March 8, 2018