Ordinary and Extraordinary: A Day at the Asbury Awakening
Editor's Note: Doug Hankins, one of the pastors at First Orlando and an American religious historian, recently traveled to Asbury University in Kentucky to experience firsthand the revival sweeping the campus. Here is his first-person account.
I first heard about the gatherings at Asbury University from social media on the Thursday after the awakening began. The next Sunday, my pastor mentioned it in his sermon. By Monday, I was making arrangements to fly to Kentucky, observe the gathering, and bring back a report for our church family.
As a historian of American religious history with an interest in revivals and revivalism, I was excited to experience firsthand what a revival of this magnitude felt like. I wanted to confirm the basic narrative from social media—that on Wednesday, February 8, 2023, a chapel service in Hughes Auditorium was dismissed at 10:45 a.m. Instead of leaving, students stayed, prayed, sang worship songs, read Scripture, gave testimonies, and listened to the Holy Spirit. I wanted to see and experience the awakening with hopes God would meet me there and help me love him more as a result.
I was also curious about other details—the ordinary, everyday things amid the extraordinary ones. Do people break away to use the restroom? Do people eat and drink? How do the leaders reset the room or clean and vacuum? How long do people stick around? Who figures all this out when the gathering runs nearly 24 hours a day? Here's what I discovered.
The Campus
Asbury is a beautiful campus nestled in a remote horse-farm community just south of Lexington, Kentucky. When you make a left on Lexington Avenue and drive two miles into the center of town, you're driving into the heart of campus. The main road neatly separates the seminary on the northwest side of the road from the college on the southeast. Each campus contains a chapel that faces the road. Estes Chapel on the seminary side seats 660. The older and larger Hughes Auditorium on the college side sits 1,489. Every seat is occupied when I arrive at 11:30 a.m. on Wednesday, February 15. I pull into the "event parking" lot next to a double-parked car.
Down on Lexington Avenue, I see people gathering. A young man in a blue shirt yells at the crowd in line, "God doesn't love everyone! God doesn't love sinners!" A woman hears him, walks over to his side of the street, and begins to loudly sing "Jesus Loves the Little Children of the World" in his direction. The confrontation is mostly peaceful, but it illustrates the pleasant tension of this cultural event. There are a thousand people in line by the time I join. "There will be four times as many this evening," a woman tells me.
I wanted to see and experience the awakening with hopes God would meet me there. As a historian, I was also curious about other details—the ordinary, everyday things amid the extraordinary ones.
The group ahead of me drove from a Nazarene church in Cincinnati—their second trip in as many days. They first heard about the gathering from young adults in their church who saw a video on TikTok. They ask me how long I plan to stay and tell me they can participate until 3:00 p.m. before they must get back to chores and work. It's a beautiful mix of ordinary and extraordinary. One of the ladies breaks into tears and tells me how much she hopes the gathering spreads to other colleges. We chitchat as we make our way to the front of the building. It's now 1:00 p.m. A lady says to me as we enter the building, "I hope you find what God wants for you."
The Room Where It Happens
At this point, my curiosity and excitement are at maximum levels. I'm curious if the revival I'm walking into will be anything like Raiders of the Lost Ark. But 10 steps into the worship space, and there's no face melting. I just hear loud singing like an ordinary worship gathering.
At 1:05 p.m., I sit down and take in the assembled crowd. It's mostly white, middle class in dress and attire, and almost everybody is respectful of the room. But it isn't a uniform crowd. I see Hispanic, black, Asian, and African people. Some are worshiping, some filming, and some chatting. Worshipers make up the majority by far. Those who are filming do so while staying engaged. Those chatting observe for a bit before leaving. I wonder if observers like these were in attendance during the First Great Awakening.
A man stands up on stage and asks us to be seated. He reads from Scripture and encourages us to meditate on why we're there. Then he asks us to pray for one another in our seats. I turn to a group behind me from a charismatic church in Ohio. They'd been to several prophecy conferences, but they hadn't experienced anything like this. This was "just as powerful, just as engaging, but much less sensational." An Indian couple to my right asks me to pray with them. They've driven down from Toronto hoping to hear the Lord give direction for their ministry path. We pray for one another, and I'm moved by this simple act of prayer. They don't know me from Adam, but they're ready to pray out loud with me with eyes closed and hearts aligned. This is extraordinary.
When we finish praying, they thank me and then get up to exit the room. Since we were in a time of prayer, I decide to make a list on my phone of people to pray for. The Lord brings Isaiah 55:6 to mind: "Seek the LORD while he may be found; call upon him while he is near." As I pray, I try to remember as many people as I can before God—my family, church leaders, small group members, anyone I can think of. It seems like five minutes of praying, but when I check my watch, I've been praying for 90 minutes. Time seems to dissipate in the room. I wonder, Is this what heaven is like?
Even Revivals Need Leaders
I start to notice there's a coordinated effort to the gathering—not overly coordinated but also not chaotic. I'd guess the 20 or so staff members in the front of the auditorium chat and plan via group text. I notice that when they're not praying with folks, they peel away to look at phones and fire off messages. But this is the exception, not the norm. There's a steady stream of people coming down to the front for prayer with these leaders. The scenes are like what I've seen on old VHS tapes of Billy Graham Crusades.
They'd been to several prophecy conferences, but they hadn't experienced anything like this. This was 'just as powerful, just as engaging, but much less sensational.'
The "staff members" are unidentified. Few proper names are mentioned on stage or in the hallways. When a man gets up to read Scripture and to remind us of the gatherings under Jonathan Edwards and of the need to reach this generation for Christ, he doesn't give his name but only says he's a local pastor. The musicians don't introduce themselves either. There's no celebrity drive or ego at the center. The only name that receives attention is the name of Jesus. This strikes me as the single most extraordinary aspect of the gathering. In an era of social media (where this gathering features prominently), there doesn't seem to be a dedicated staff person who's using social media to fan the flames. If anything, staff look for ways to remove themselves from the gathering to let Jesus be the leader. The main faces are those of the students who lead the singing.
Perhaps it's because students are leading, but by my count, most of the songs are modern praise and worship—"Firm Foundation" and "Promises" from Maverick City; "Gratitude" and "House of Miracles" from Brandon Lake; "Waymaker," "Nothing Else," "Forever," Tremble," "Great Are You Lord," and "No Longer Slaves." The only songs written before the year 2000 were "Jesus Loves Me," "I Love You Lord," "Sanctuary," and "Agnus Dei." The only hymn we sing is "It Is Well with My Soul." There are no screens with words or other images. The emphasis is on singing to God in prayer and praise. While I don't know most of the modern worship songs, I'm able to search the lyrics on my phone to keep up. I wasn't sure if cell reception would be a problem in this old building full of so many people. But it isn't. Revivals are built on the back of ordinary things—even cell reception, Google searches, and lyrics websites.
Even Awakenings Take Breaks
At various points in the gathering, a staff member reorients the crowd to the room, the campus, and housekeeping issues that naturally arise. One gentleman kindly asks any jumpers not to do so in the 100-year-old balcony but instead to move to the main floor to continue their expression of worship. Everyone in the crowd laughs, and people on the main level shift seats to make room for the jumpers. What an ordinary concern met with extraordinary humility and grace!
There's a steady stream of people coming down to the front for prayer with these leaders. The scenes are like what I've seen on old VHS tapes of Billy Graham Crusades.
At these points, I notice people get up to go to the restrooms and snack area in the same way they might at baseball games between innings. It appears the leaders coordinate these breaks intentionally to give people social permission to exit. These times also create additional space so people in line may find their way inside. The timing of the housekeeping moments also allows for a changeover in musicians. Several groups of students lead the singing, and they lead for periods of time as the Lord guides them. On average, it's anywhere from 45 minutes to an hour. The music sets are never shorter than 45 minutes and never more than 90. I don't know if this is intentional, but it's consistent. This seems to be the rhythm that best fits the crowd's needs.
Practical Questions Answered
After a couple hours of praying, singing, and reading Scripture, I break away from my seat to find some of the leaders wearing lanyards with name tags. It's time to ask some of my practical questions, and they answer them all with great calm and patience.
Revivals are built on the back of ordinary things—even cell reception, Google searches, and lyrics websites.
I'm impressed in that moment with the gentle nature, consistent care, and compassion of the Asbury staff. They help me find restrooms (in the basement of Hughes) and inform me they're cleaned on a planned schedule. In the restroom, there's an institutional-sized soap bottle with a pump on the counter. Towels sit in piles on the windowsill, and there's no overflowing trash. It looks as if someone came in, dropped off supplies, did a quick clean, and got out to make space for visitors. This makes sense since the bathroom wasn't designed for thousands of people and constant use.
I learn that snacks and water bottles are in the narthex at the front of the auditorium. People are encouraged not to eat in the space, out of respect for the gathering. Some bring bottles in anyway, but I don't notice any Starbucks cups. If people need to slip out to refuel, they do so without judgment. On the lawn, a church group has brought Little Caesars pizzas and is giving away slices. A man with a food truck is parked on the east lawn offering free food and prayer. Ordinary and extraordinary.
Back Outside
I walk outside again after a few more hours inside Hughes. Parents and kids have arrived after school and they lay picnic blankets down on the lawn. Soccer balls and footballs are tossed about, and some troubadours gather around the trees for impromptu worship concerts. There are still around a thousand people in line. By 6:00 p.m., that number has doubled, and there are thousand gathered on the lawn. Tech teams have set up live feeds of the Hughes gathering on a screen outside Hughes and another inside Estes Chapel, where 200 people have gathered. There's an additional overflow area and live feed at a local Vineyard church near campus.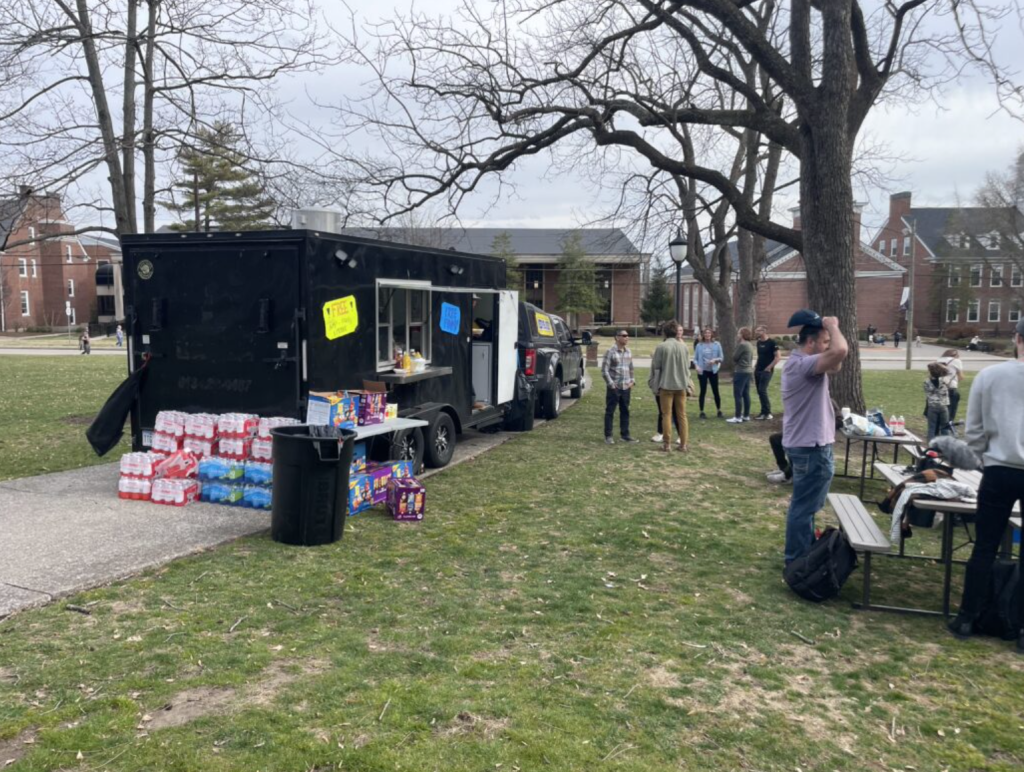 On the live feed, a piano player begins reading from Ephesians 3:14–21 (NIV):
For this reason I kneel before the Father, from whom every family in heaven and on earth derives its name. I pray that out of his glorious riches he may strengthen you with power through his Spirit in your inner being, so that Christ may dwell in your hearts through faith. And I pray that you, being rooted and established in love, may have power, together with all the Lord's holy people, to grasp how wide and long and high and deep is the love of Christ, and to know this love that surpasses knowledge—that you may be filled to the measure of all the fullness of God.
Now to him who is able to do immeasurably more than all we ask or imagine, according to his power that is at work within us, to him be glory in the church and in Christ Jesus throughout all generations, for ever and ever! Amen.
A child climbs a tree, and a staffer politely asks him to climb down. People outside break into song as they watch and hear the people inside via the screen and speakers. Kids play tag. Parents drink coffee. Police are chatting. People walk into the portable washrooms. College students walk past the crowds to get to their dorms. Some people take selfies on their phones. One man stands alone, praying silently.
Practical. Spiritual. Ordinary. Extraordinary. All at once. When Paul prays for us in his epistle to the Ephesians, perhaps he has something like this in mind.
By Doug Hankins, First Baptist Church of Orlando | Originally published by Gospel Coalition.