Florida Baptist Global Hunger Relief
PANDEMIC FOOD DISTRIBUTION
For many years, Florida Baptist Churches have served their communities by providing food for the needy. The pandemic brought new challenges and an increased need for food due to loss of jobs and food availability.
In March, the State Emergency Operations Center opened with the Florida Baptist Disaster Relief being represented. Through DR contact at the EOC, God provided the first 56 semi-trailer loads of food with the first being delivered in Miami on April 23. While this resource ended, God provided new resources through the Central Regional Catalyst and the Southeast Regional Catalyst. Many trailer loads of food have been donated. In October alone, we received 110 trailers.
Florida Baptist Churches have distributed this food throughout their communities while sharing Christ and praying with the ones impacted by the pandemic. The pictures above are from various Florida Baptist Churches conducting food distributions across the state.
2020 Hunger Outreach Annual Report
Value of food distributed: $31,631,027
Meals: 8,216,015
Churches and Associations: 708
Professions of faith: 6,424
Baptisms: 225
81 Churches and Associations received Hunger Funds
$89,626 in hunger funds distributed to Churches/Associations
576,396 people fed
Starting a Feeding Ministry Resources
Hunger Funds Summary Report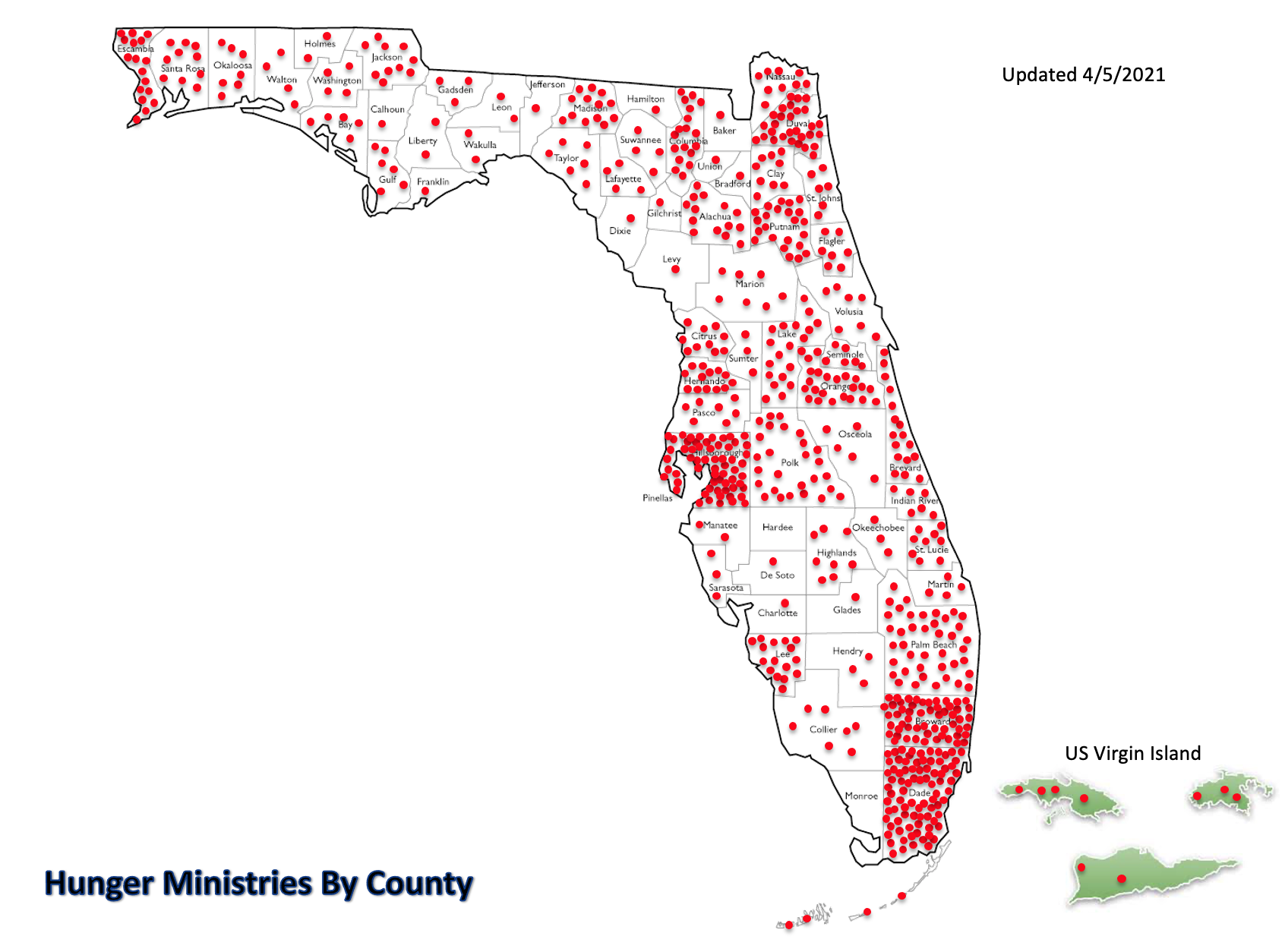 We are celebrating what God is doing through Florida Baptist Churches and Associations. Over 700 Florida Baptist Churches and Associations are listed in the regions and on the map. These reported a total of 6,424 professions of faith through Food Ministry in 2020. Each one has an ongoing Food Ministry or they participated in the Pandemic Food Distribution.
We want to include all Florida Baptist Churches and Associations that have a Food Ministry. If your church or association is not listed, please email Marc Johnston at mjohnston@flbaptist.org the following information: Church Name, City, Name of Ministry, Contact Person, Phone Number and Email.
100% OF YOUR GIFT GOES TO HELP HUNGRY PEOPLE