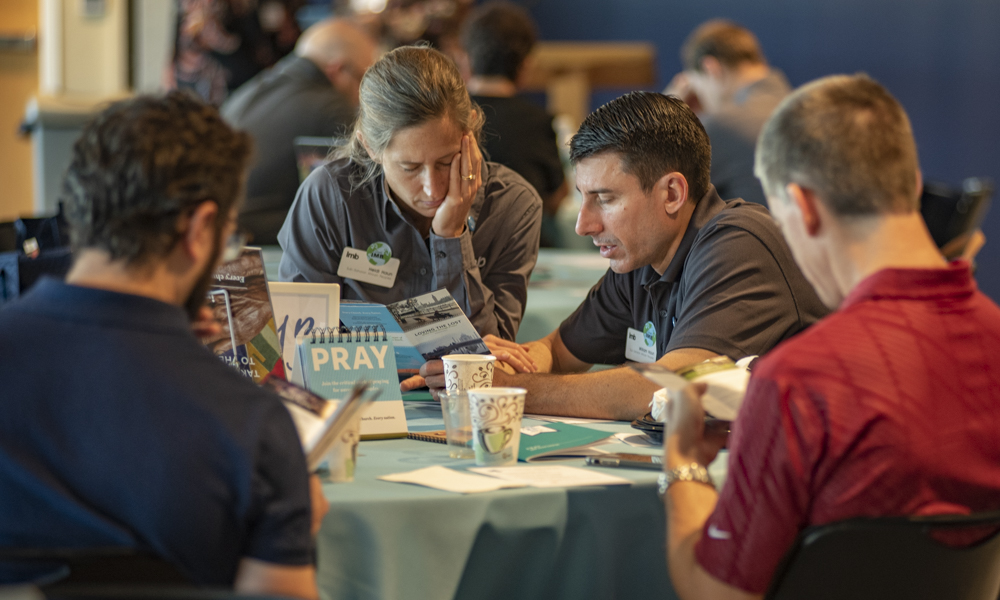 Florida missionaries honored at IMB Prayer Breakfast
ORLANDO — The smell of coffee and sounds of laughter filled a dining room in Faith Hall on the campus of First Baptist Church in Orlando as over 100 guests were welcomed to the annual International Mission Board (IMB) Prayer Breakfast held in conjunction with the Florida Baptist State Convention meeting, Tuesday, Nov. 12.
Tommy Green, executive director-treasurer of the Florida Baptist Convention welcomed the international and North American missionaries and expressed appreciation for the ministry and contributions they have made in spreading the gospel of Jesus Christ.
"Thank you for heeding the call to serve," said Green. "I can assure you that Florida Baptists love you and pray for you."
Myles Dowdy, Florida Baptists' Mission and Ministries catalyst, echoed Green's sentiments. "We are thankful for our churches and their love for missions. The members of Florida Baptist churches remember you and pray for you."
He challenged them to live missionally no matter where God has planted them. "Whether God sends you across the street or around the world, we know that we are called to mission work."
Included in the program were several allotted times of prayer for the nations, the lost and faithful workers. Leading these intimate moments of prayer were Irma Moss, WMM/ME president; Katrina Sellers, WMM/ME recording secretary and Cindy Bradley, Florida Baptists' Women's Missions and Ministry/Missions Education catalyst.
"We are so thankful for the foundation of prayer," said Sellers. "We know that prayer is never wasted."
Bradley encouraged those attending the IMB Prayer Breakfast to set an alarm for 10:02 every morning, reminding them to pray earnestly for laborers to be sent out into the harvest (Luke 10:2).
"I challenge you to use this time every morning to cry out to God," she said.
Oscar Tortolero, IMB Church Mobilizer for Florida Baptists, reminded those in attendance that there is still a lot of work to be done.
"As Florida Baptists, we have been compelled to pray, give, and go," said Tortolero. "Billions of people need to hear the gospel; we need to be united as one family to continue the work."