The Florida Baptist Convention's culture of serving "Right Beside You" was clearly lived out this week as riots in Haiti caused difficulties for mission teams and other individuals in the country. The unrest caused short-term mission teams from multiple states to be unable to leave on time and prompted some Florida Baptists individuals to cut their longer-term stays shorter than anticipated.
As of today, the Florida Baptist Convention has no known personnel on the ground in Haiti, said Dr. Craig Culbreth, East Region Catalyst for the Florida Baptist Convention.
He mentioned most church teams who were to leave for Haiti soon have now cancelled their trips.
Culbreth emphasized there are always risks when you travel overseas and encouraged teams not to be fearful but instead, to be prepared.
He pointed out the Florida Baptist Convention offers training to mission teams, which covers topics such as risk, safety, where teams should stay, dealing with foreign governments, as well as the importance of having trusted contacts at home as well as in the foreign country.
In addition, the Florida Baptist Convention also has a Crisis Action Team comprised of pastors, law enforcement individuals, as well as other highly trained experts in the area. This team can be activated when an emergency arises.
Culbreth remarked the Crisis Action Team was not activated for the unrest in Haiti, though certain team members were.
"The teams had food, water, and shelter. It was an inconvenience that they could not get out as scheduled but it was not an emergency," he explained.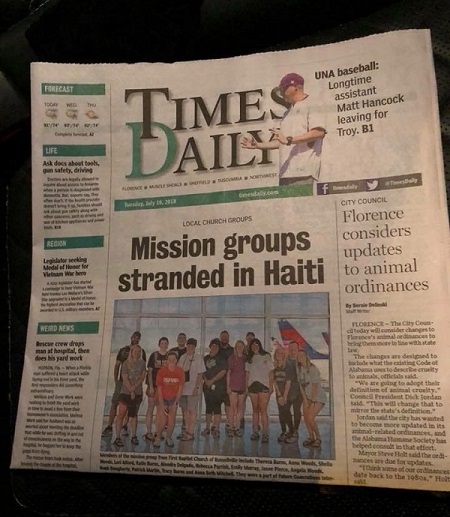 One such team stranded in Haiti was from First Baptist Church Russellville, in Russellville, Alabama. Florida Baptists stepped in and showed the culture of serving "Right Beside You" is shown to all in need around us.
Tim Martin, associate pastor of business administration at First Baptist Church of Middleburg, in Middleburg, Florida is the father of Patrick Martin, Russellville's senior pastor, who was leading the stranded team. Pastor Tim Martin also serves on the state's Crisis Action Team.
Martin said, "My son made the right decision to shelter in place [during the unrest]."
He explained the roadways between Jacmel, where the team was serving, and the airport in Port-au-Prince were blocked and unsafe for travel.
Martin stated, as a Florida Baptist pastor, he is grateful that the system Florida Baptists have in place, "Worked exactly as it should have."
He also mentioned, "I am grateful to Craig [Culbreth] for giving up his time to help."
Just as he trains teams to do, Culbreth initiated calls to key contacts which eventually led to the Russellville team's extraction on Tuesday.
"God used what He has assembled here in Florida to take care of this." Martin said.
He went on to add, "Things can happen anywhere. Florida Baptists proved that it does not matter who you are or where you are from, we are right beside you to help."
Culbreth wants Florida Baptists to know, "People in Haiti still need the gospel. There are still needs there. We have to be sure not to forget that."
Jennifer Cogley, Special Contributor, July 13, 2018