Florida Baptist State Convention – Session 2, continued
After Green's biblical message the Committee on Nominations, represented by its chair Ronny Raines, presented their recommendations to fill vacancies within various Convention committees. Messengers approved all recommendations. Raines, pastor of Bradfordville First Baptist Church in Tallahassee, also thanked Green for leading the Florida Baptist Convention toward more diversity.
Under Green's leadership the State Board of Missions has increased by 22 percent in non-Anglo representation. "Thank you Dr. Green for leading us in that direction."
Ted Traylor, pastor of Olive Baptist Church in Pensacola, nominated Mike Wiggins, pastor of Pine Terrace Baptist Church in Milton, to the position of first vice president of the 2019 Florida Baptist State Convention. "His heart is deep in Florida Baptist life… [Cummings] will have a great partner in Mike Wiggins," he said. Messengers elected him with a loud "aye".
After that short business session, Green welcomed to the stage four Send South Florida church planters.
Danny Slavich, pastor of Cross United Church in Lighthouse Point, was sent by First Baptist Church in Pompano after he was compelled by the immense lostness in that area.
Steven Leen, being sent by The Brook, moved from D.C. because he and his wife "saw and felt God calling us to stay here…the need in South Florida is great."
Jose Concepcion has planted 12 churches in the Dominican Republic and is now working to reach Hispanics in West Broward. "It's all about building relationships."
Eric Bancroft, being sent by Providence Road Baptist Church, came back to Miami with his wife to plant a church after living and planting in Indianapolis. "I'm excited to be advancing the Gospel in South Florida."
Evens Jules preached the session's second Biblical message. Greeting the messengers and visitors in English, French and Spanish, Jules thanked Green and Rummage for the opportunity to speak to the convention.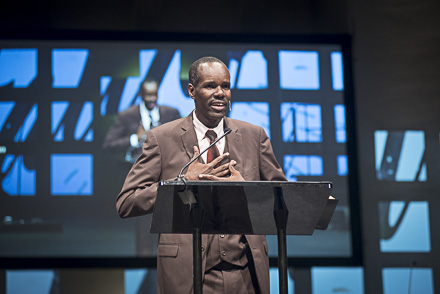 Reading out of Mathew 25: 14-18, he preached about remaining faithful in an unfaithful society. "Unfaithfulness is the new normal. In relationships, business, government, school and even in ministry." In his three-point sermon he explained that God expects our faithfulness, we must express our faithfulness and finally, God will reward those who remain faithful.
Like the master in Mathew 25 called his servants, people he knew, so God calls believers. "The master gave each what he could handle," he said. In the same way God gives each pastor what he can handle whether that be a 500-member church or 5,000-member church. "No matter the size of the church, God expects faithfulness."
Faithfulness must be expressed by believers and pastors the same way the first two servants expressed theirs: by investing the talents God has given. "As we wait for our master to come back, we must do something with the talents He has given us."
God will bless those who remain faithful, he also said. "We don't do it for the blessing, but our God will bless us anyway."
He finished encouraging pastors and their churches to be faithful even if they haven't done anything with their talents thus far. "Even if you haven't done anything with your talents, the opportunity is still open for you to be faithful."