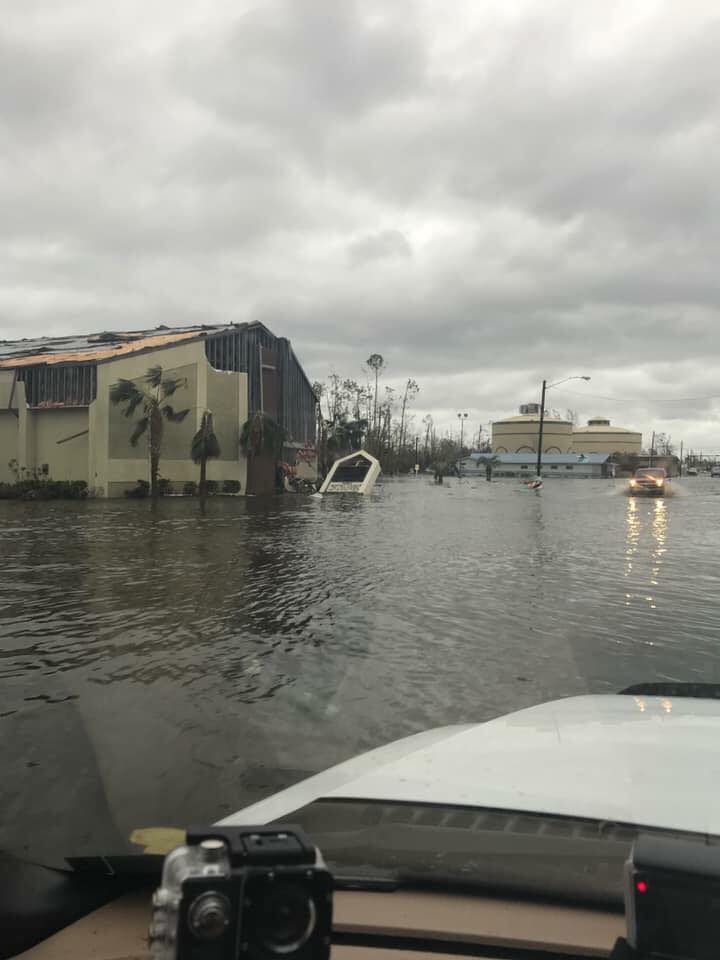 Florida Baptist DR on the ground in the Panhandle in the wake of Hurricane Michael
Less than a day has passed since Hurricane Michael made landfall in the Florida Panhandle as a category 4 hurricane leaving severe devastation in its wake. But already Florida Baptist Disaster Relief (FBDR) is on the move and on the ground bringing hope and relief to those affected.
"Our Disaster Relief Teams are staging to respond when able to the needs of our fellow Floridians," said Tommy Green, executive director-treasurer of the Florida Baptist Convention. "We are committed as churches in Florida to come right beside these communities and churches."
Marvin Corbin, logistics and field missionary for FBDR, was on his way to Tallahassee along with 20 volunteers on Thursday morning. The team was bringing along with them equipment to help with recovery and feeding.
"There are already clean-up and recovery teams on the ground in Wakulla and Panacea near Lake Ellen," he said, and added that there was already a team in Panama City doing a windshield assessment. "They are driving through seeing where the most damage is, where to focus efforts, evaluating what can be salvaged and what is a total loss."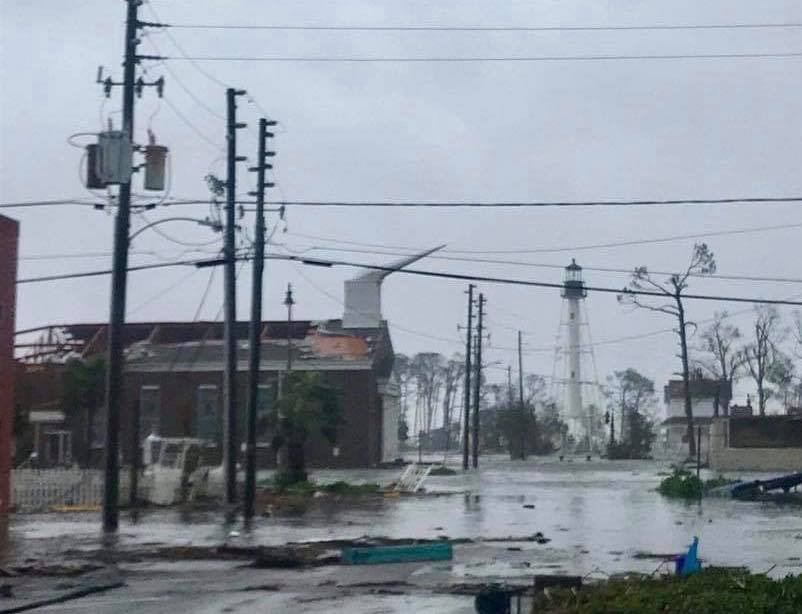 "The level of devastation is incredible from this event," said Green. "Homes, churches, and businesses have been damaged and the reports are heartbreaking."
The destruction the storm left in its path is severe, according to a situation report by FBDR. Several police and fire stations lost their roofs, had collapsed roofs, and sustained significant structural damage. Comfort Inn on Hireson Avenue in Bay County had its roof collapse trapping 200 people. The report also indicates loss of internet service, 911 systems being down in some places and loss of power.
Several Florida Baptist churches sustained heavy damage as a result of the storm including roof loss, structural damage and flooding. Some of the churches are Family of God Church—both Panama City campuses, First Baptist Church Port Saint Joe, First Baptist Church Lynn Haven, First Baptist Church Panama City in downtown and Hiland Park Baptist Church, also in Panama City.
"Just about every church has had some level of damage," said Lewis Miller, west Florida regional catalyst. "It's going to be a long, long time of recovering and rebuilding."
The Baptist College of Florida in Graceville also had moderate to severe structural damage but no one was injured.
A tweet from BCF president Thomas A. Kinchen on the school's Twitter account read: "We are post #HurricaneMichael. Moderate to some heavy damage to buildings, trees, etc. ALL PERSONNEL ARE WELL!! Now working on restoring power and communication. No injuries reported. Please keep praying."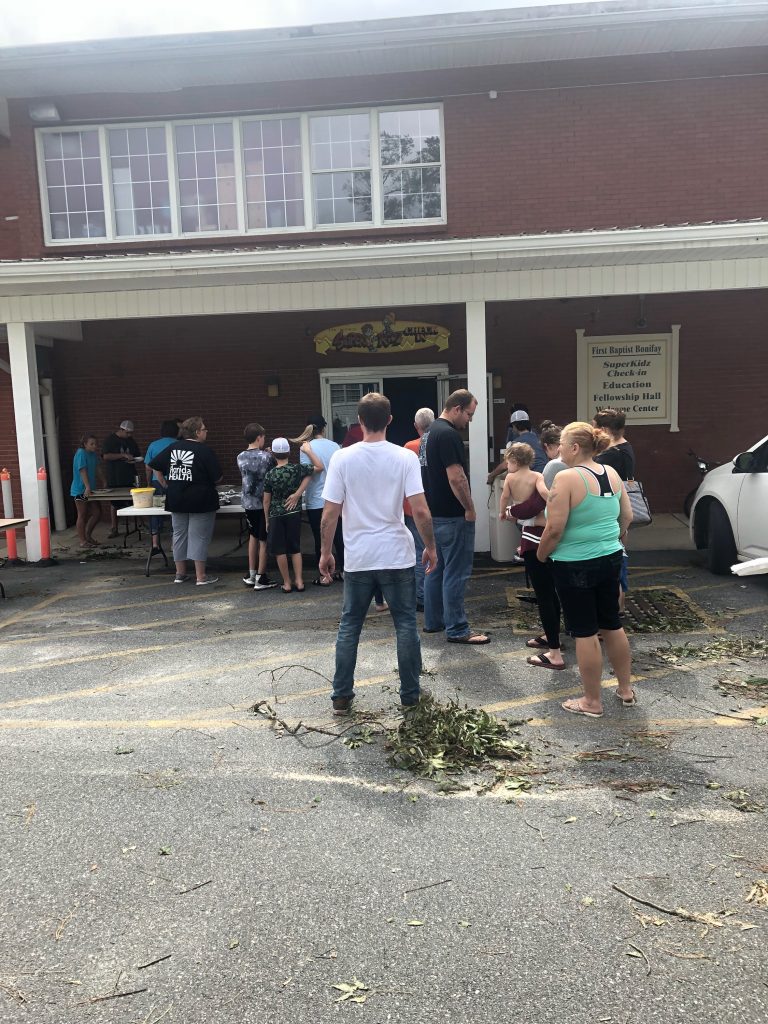 Food is being donated by local grocery stores to First Baptist Church in Bonifay, pastored by Shelly Chandler, and the church is cooking it to feed people out of their church facility.
"Praise the Lord for this is good use of meat that would have otherwise ruined," said David Burton, Florida Baptist evangelist.
"We are heartbroken for the people experiencing the devastation in their communities," said James Peoples, North American Mission Board Send City missionary in Miami. "I'm thankful for Disaster Relief and the help they bring…these churches in the panhandle don't feel alone."
Disaster Relief teams are looking at setting up two response sites. Corbin says that these could potentially be at FBC Lynn Haven and Thomasville Road Baptist Church. "We have a lot of volunteers wanting to come, we just need a place for them to come to."
He also adds that churches who need help should reach out to their regional catalysts first. "Catalysts are our eyes and ears when these things happen."
"We will continue to pray as the rebuilding of lives and communities begins for God's grace, love, peace, wisdom, and strength to strengthen and sustain our Florida families," said Green.
Delton Beall, director of FBDR, was unable to comment for this story as he is currently coordinating relief efforts. Beall–who lives in the area impacted by the storm but is safe–thanked everyone prior to the storm for their prayers in a Facebook post saying "Grateful for your prayers today for the people of the panhandle and for us as we serve."
Item donations are discouraged as logistics for accommodating them would complicate disaster response. However, Corbin encourages those who wish to help to do so by donating to FBDR through FlBaptist.org/give/
By Keila Diaz, Florida Baptist Convention, October 11, 2018