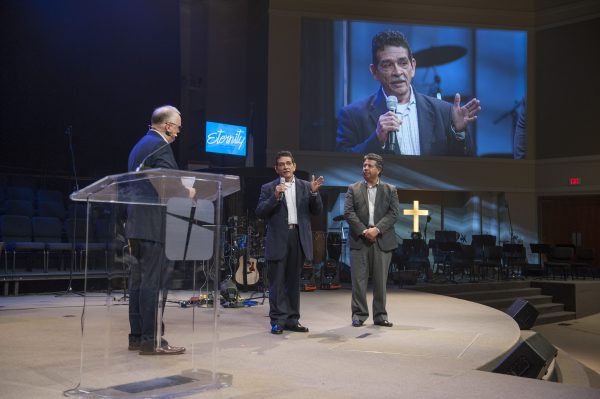 Florida Baptist Convention Migrant Ministries brings hope to Lehigh Acres
When Hurricane Irma passed through Lehigh Acres, First Baptist Church Pastor Hector Gomez, who ministers to the migrant families in the area, worried about how best to help.
"I worried after Irma about how to help our community because we had nothing to give them," he told messengers gathered at Bell Shoals Baptist Church for the annual meeting of the Florida Baptist State Convention.
Misael Castillo, director of Migrant Ministries for the Florida Baptist Convention, called other pastors ministering to migrant families around the state and most of them said there was widespread despair being felt in those communities.
"The oranges were all lost to the storm and that left the migrant workers with no work," said Castillo.
In an effort between several north Florida churches, Migrant Ministries, Disaster Relief and other agencies, the migrant communities of Lehigh and Immokalee received aid following the storm.
"We were able to feed people for 7 days and served over 7,000 hot meals," said Gomez.
Gomez and other volunteers from his church had the opportunity to share the Gospel with migrants who did not yet know Christ and they saw some come to salvation.
"We met a physical need, but we also met spiritual needs."
This kind of work is not unusual for Migrant Ministries, however.
Before the storm struck Florida, Castillo had been working with pastors in migrant communities, giving them tools to reach the transitory immigrant workers.
"Before the hurricanes we gave children backpacks packed with essentials and through the year we bring a lawyer to advise the different migrant communities on legal issues," said Castillo.
He encourages churches who want to work with migrants to reach out to him for resources, training and help.
"We want to help any pastor and church who wants to reach migrant workers."
By Keila Diaz, Florida Baptist Convention, January 10, 2018