Women's Spring Retreat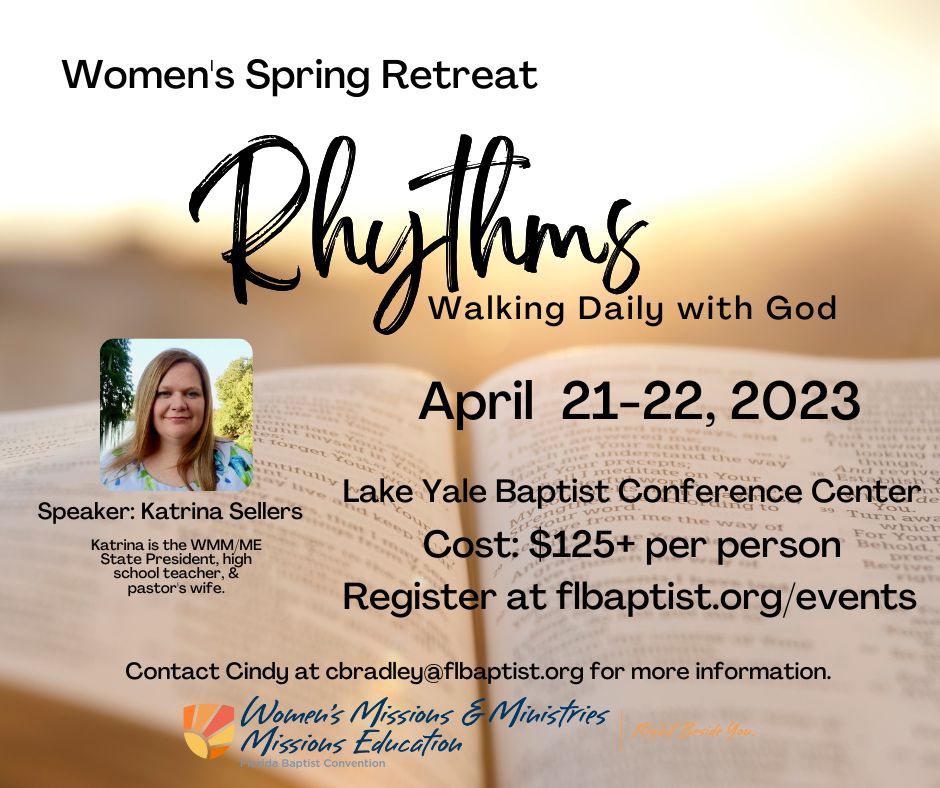 Women's Spring Retreat
Date: April 21-22, 2023
Location: Lake Yale Baptist Conference Center | 39034 County Road 452, Leesburg, FL 34788
Do you, like many of us, struggle to create space in your daily routine to spend time alone with God? We often desire to feel closer to God, but we struggle with the how. How do I create time and space with God with my busy schedule? Why does this seem to be such a struggle? Am I the only one who feels this way? During our Women's Spring Retreat we will share how we can weave healthy rhythms of time alone with God into our daily lives…and what that can look like. Join us as we seek to walk daily with our God.
Join us for our 2023 Women's Spring Retreat as we worship and seek God together, connect with one another personally, relax in a peaceful setting, and take steps to have our emptiness filled with Him.
Cost per person:
1 Night/3 Meals — $125;
2 Nights/6 Meals — $210;
Commuter (2 meals) — $70;
Additional $65 for private room (private rooms are limited).
If paying by check, make check payable to Florida Baptist Convention and mail to Women's Spring Retreat, 6850 Belfort Oaks Place, Jacksonville, FL 32216.
Related Events