2022 Black Multicultural Church State Fellowship Conference
August 4, 2022

-

August 6, 2022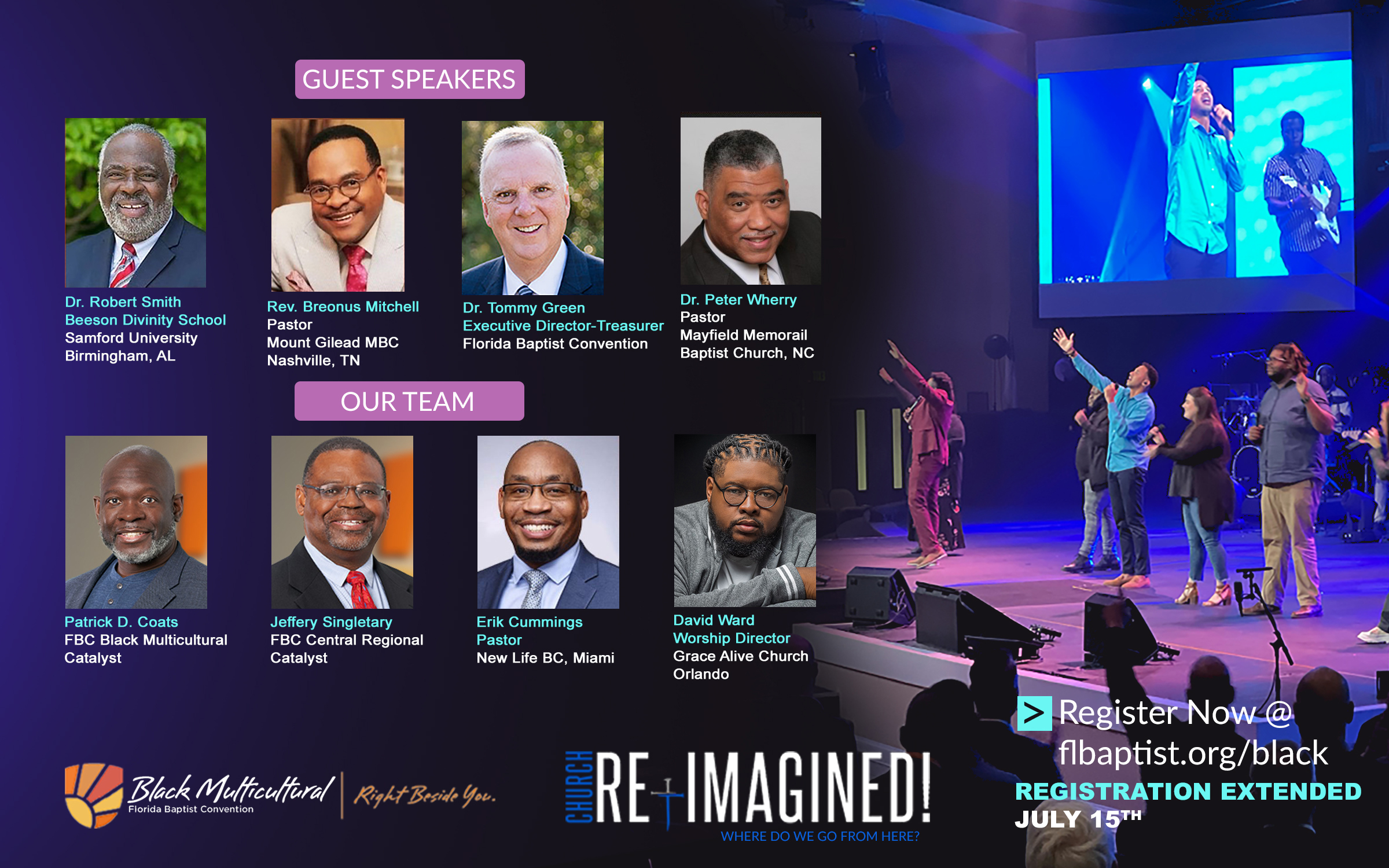 2022 Black Multicultural Church State Fellowship Conference
Date: August 4 – 6, 2022
Location: Rosen Shingle Creek | 9939 Universal Blvd, Orlando, FL 32819
REGISTRATION IS STILL OPEN
REGISTRATION COST: $30 per person (adults) | $60 per family
If paying by check mail to: Florida Baptist Convention, Attn: BMC State Fellowship, 6850 Belfort Oaks Place Jacksonville FL 32216
COST includes event program, materials only
Lodging available at Rosen Shingle Creek, Orlando, FL:
Lodging is not included in your registration fee. The Rosen Shingle Creek Resort is completely full for Thursday night, August 4th. However, you can still call and ask for the Convention rate for Friday night. OR you can find your own lodging arrangements and attend the conference as a commuter.
Reservations can be made by calling 1-866-996-6338 and asking for the "Florida Baptist Convention" rate.
FBC Contract Rates: All Rooms $149, plus a $15 Parking Fee per night. Parking rate for commuters will be $25.
---
Join us for a great weekend of worship, preaching, and ministry training.
Come unwind on Thursday evening and get an early start on our ministry training opportunities as we kick-off this year's event.
Our Friday and Saturday schedule will provide programs for Senior Adults, Men, Women, Couples, Young Adults, Youth, Children and much more.
We've got great speakers, training opportunities, and worship.
Our theme for this year's event leans into the question, "where do we go from here?"
Ministry Training Preview:
Future Church
Growing The Post-Pandemic Church
Deep Discipleship
Character Still Counts
Seasons
Worship On Demand
Church & Technology
You Were Made For This Moment
Dangerous Prayers
Rediscover Church
Worship Round Table
Pastors Round Table
Senior Adults
Women Only
Men
Youth
Children
For more information, please contact Madison Handley @ 904-396-2351 or mhandley@flbaptist.org.
Related Events