Despite widespread destruction, Mexico Beach church sees God at work
Third in a series of three stories on the first anniversary of Hurricane Michael.
MEXICO BEACH—Riding out Hurricane Michael's 161 mph winds at their Mexico Beach home, Barbara and Bubba Harmon watched as the Category 5 storm's nine-foot tidal wave rushed toward them, carrying pieces of broken lives, debris and garbage in its wake.
As the family prepared for the worse, in what seemed like only seconds, the rushing storm surge engulfed an empty lake on their property, diverting the dangerous wave away from their home and saving the family from the devastating onslaught.
When Bubba Harmon told his wife a few months earlier that he planned to drain the 20-acre lake on their property to increase its size and depth, she greeted the news with some skepticism, she said. But now she knows it was part of God's plan.
"We believe that was God's way of putting His protection over us," said Barbara Harmon.
And while their home and beloved community have not been immune from the horrific damage caused by the Category 5 hurricane, they have continually seen God at work for good in the lives of their neighbors and those who have responded in the storm's aftermath.
When Michael made landfall on this fishing village located on Florida's Forgotten Coast on Oct. 10, 2018—a year ago this week–90 percent of the homes, condominiums, stores and businesses were destroyed or sustained at least 50 percent damage. A year later countless empty lots where houses once stood dot the roads intersecting with Highway 98.
Much of the town's infrastructure is no longer in existence. Gone are the police station, fire station, water tank, civic center and pier. No grocery stores, restaurants or gas stations remain. Many residents have left the small town that was Ground Zero for the storm.
Yet almost immediately after the storm, God's people and His miracles began to show up.
Members of First Baptist Church in Mexico Beach opened their arms to their town, pouring out food, supplies and diapers and supporting work crews to clean up and rebuild homes.
"We received thousands of donations of money, clothes, food, diapers, paper products, which allowed us to meet needs in the community," said Barbara Harmon, who also serves as minister of music of the church with 30 members. "We kept the doors of the church open seven days a week from October through June."
"If you want to experience God, come to First Baptist Church and get to work in this community," said Pastor Eddie LaFountain. They have seen people accept Christ as their Savior, a dozen baptisms and volunteers return home with a "fire in their hearts to reach others," resulting in professions of faith in their own communities, he said.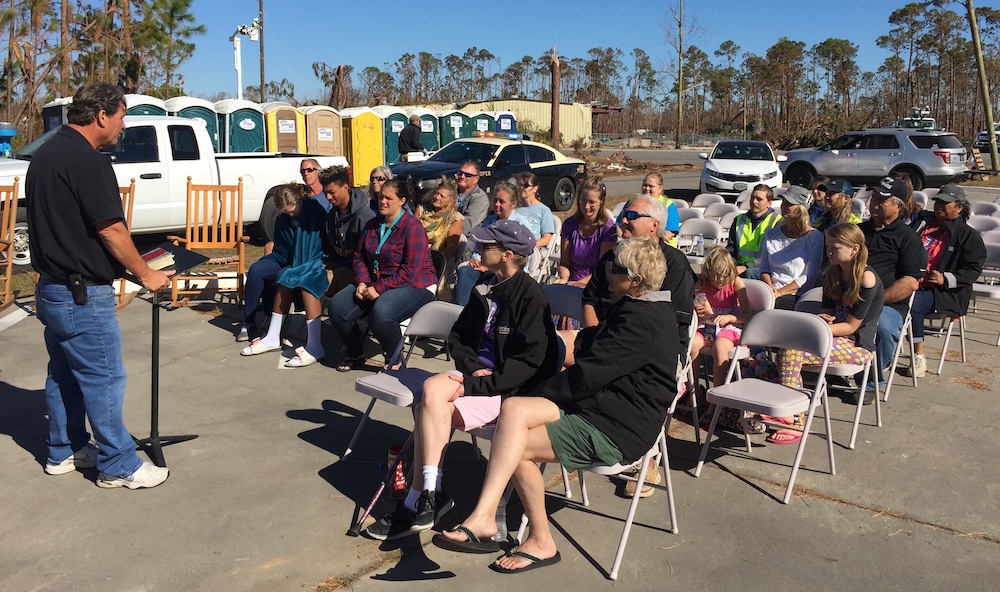 During the hurricane, the church's roof was damaged; and the steeple, torn off. The church does not have insurance, which was cancelled after the last hurricane tore through the Panhandle. Immediately after the storm a roofing company from Miami made the trek to Mexico Beach and replaced the roof and steeple at no cost.
Volunteers arrived from across Florida, Georgia, Tennessee, Alabama and Kentucky, LaFountain reported. During a two-month period, more than 400 volunteers helped in the cleanup–removing trees and sheetrock from the roads and yards and repairing roofs and homes. Many slept in the sanctuary.
He estimated that 85 percent of the volunteers were Southern Baptist. But other Christian groups sent volunteers, especially Samaritan's Purse which made a long-term commitment to the region.
Now a year later, the congregation continues to receive volunteers and are making the donated food and household products that still arrive at the church available two days a week.
Every day gets better, LaFountain reported, "God's given us everything we needed along the way."
"You experience God when you're selfless. When you care more for others than you care for yourself." said the pastor.
Months before the hurricane, the church's parsonage, where LaFountain and his family lived, was destroyed by fire. A modular home was made available prior to the storm but new, stricter building codes have prevented the church from installing it. LaFountain, his wife and son are living in the church.
The bivocational pastor owned a lawn service before the storm. For the past year, he has not received income from the lawn service or the church. First Baptist Church in Bonifay stepped in, with assistance from First Baptist of Blountstown, to provide a salary to the pastor, which will continue to the end of the year.
The Bonifay church has partnered with the Mexico Beach congregation through the Florida Baptist Convention's "Churches Helping Churches" emphasis. The Convention also provided money to help with church repairs.
Dozens of volunteer teams from the Bonifay church have traveled to the town to help in the clean-up and recovery process, said Bonifay pastor Shelly Chandler, who vacationed in Mexico Beach as a child.
Reflecting on the past year, Barbara Harmon admitted, "It's been a slow process." They are waiting on insurance to pay for a new roof on their home. And she retired from her real estate, handing over the business' reins to her son.
"But through it all, we have seen God's glory," she recalled. "God has worked for good as we met a lot of needs. That's when people's hearts are open to respond to God."