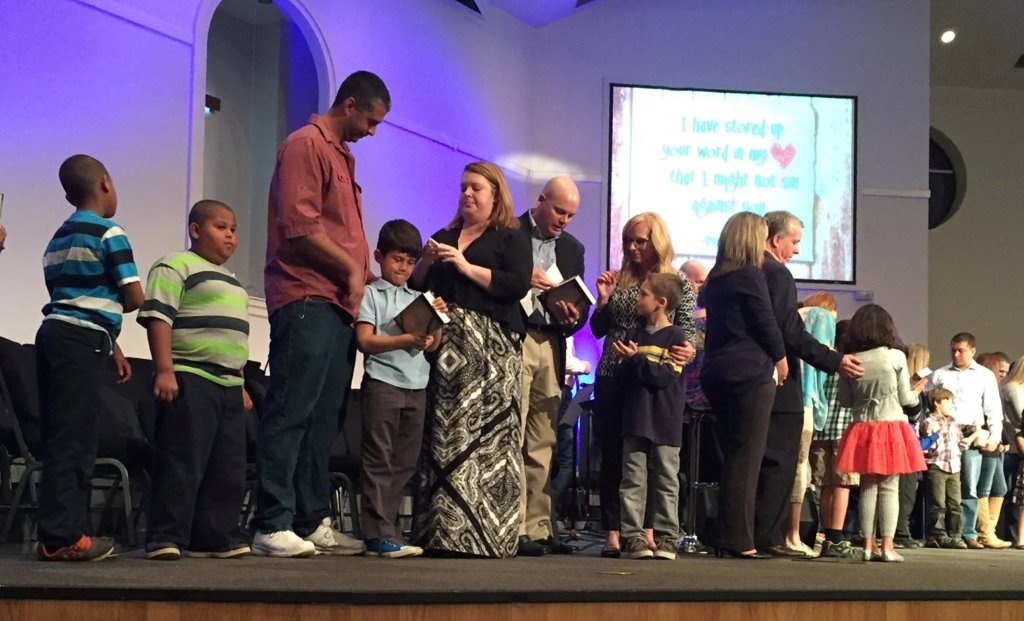 When First Baptist Church of Orange Park had a staffing gap to fill with the departure of their student minister, church leaders sought to look at a new model that would better equip the church to minister to all ages—especially families with children.
They called veteran student minister Dave Paxton as "Generations Pastor" to connect and bond all age groups with a singular focus of serving those from every age group.
"Our Generations ministry has sought to remove barriers that develop over time and create silos of ministry—especially between preschool, children, youth, college and beyond," said Pastor David Tarkington. "While there was no animosity between ministries or their leaders, it was clear that we were creating separate ministries that didn't connect very well and ultimately the hand-offs [between age groups] were not good. We just knew there was a better way."
Orange Park First is part of a growing number of Florida Baptist churches that are turning away from traditional age-group ministries where every segment has a specific ministry geared toward that age group to a "Next Generation ministry" that cohesively blends all of these ministries from the cradle to college.
Academically defined, next generation ministry advances the Gospel through a Biblical strategy collaborating with parents, leaders and students for the spiritual formation of those from birth through college, explained Billy Young, Florida Baptists' Next Generation Ministries catalyst.  ​
"But basically, a Next Gen focus, or family ministry, creates a plan to strategically disciple someone from birth through college," Young said.
"A lot of churches are doing next gen ministry but don't necessarily call it that," he added. "The new focus in churches is to make the conscious effort to tie in the preschool-children-student ministries."
First Baptist Church of Plant City began the process of moving toward a Next Generation ministry philosophy this past fall, said Ricky Lindsey, minister of students. He defines the ministry as "collaboration between leadership that ministers from cradle to college."
Traditional ministry programs tend to gravitate to each program operating with a separate philosophy, he explained.  "Preschool, children, middle school, high school and college ministries move students from one program to the next with very little strategy, leadership teamwork or parental training along the way. "
However, next generation ministry seeks to advance the Gospel "through a biblical strategy collaborating through the local church with parents, leaders and students for the spiritual formation of those from birth through college age."
Once implemented, Lindsey believes the church will operate with a true discipleship plan to make disciples of the generations to come. "A church experiences true joy when there is unity in vision and strategy. Everyone benefits as Deuteronomy 6:1-9 becomes a reality. The Lord Jesus becomes the focus and the message of the Gospel is the catalyst."
At First Orange Park, the generational ministries strategy encompasses more than Sunday school and Wednesday night activities but a church-wide emphasis for the entire family to grow and mature in the faith, said Tarkington.
As part of this strategy, the church has implemented "Rite of Passage Experiences," that includes a series of videos with talking points and prayers highlighting strategic steps in the lives of families with children. The materials, produced by Parent Ministry, are located on the church's website.
"The church's role is to equip and make disciples," Tarkington contends. And while in the past the primary role of disciplemaker in the life of a child has been parents, "now there are many families where parents are not believers. Church members must stand in the gap of those cases with the intent of reaching the parents as well."
The Orange Park pastor worries that should the church not make an intentional shift in its model of ministering "we run the risk of skipping a generation entirely that may never be reclaimed."
Victories are no longer counted in attendance at pizza nights or kids camps, he said, "but in developing disciples. That affirms the Great Commission."
By Barbara Denman, Florida Baptist Convention, May 6, 2016