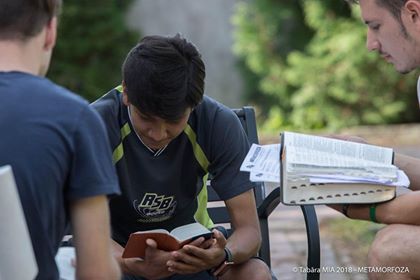 Erin Grant, a member of Fruit Cove Baptist Church in Jacksonville and a student at Florida State University, spent eight weeks of her summer in Romania, working with a camp organization there reaching Romanian youth with the Gospel. Here's a look at this life-changing experience through her eyes:
For LIFE Romania 2018, it is the summer of metamorphosis, or Metaforzat in Romanian. Metamoforzat means transformation and is the key word in our camp verse. Romans 12:2 "Do not be conformed to this world but be transformed by the renewal of your mind."
Camp is divided into two teams, Brotachii (frogs) and Fluturii (butterflies), each with an iconic change that takes place in each of their life cycles to transform them into a totally new creation. As the kids begin to arrive, our counselors are transformed into beautiful butterflies or frogs: decked out in butterfly wings, dramatic face paint, and their team shirt. All our energy is aimed to create expectant attitudes amongst the campers about the upcoming week. The schedule is packed with exciting activities like horseback riding, a trip to the water park, campfire, a talent show, outdoor games, and crafts. These are a huge part of camp but are really just a part of creating an environment to promote friendships between counselors and campers that lead to spiritual conversations.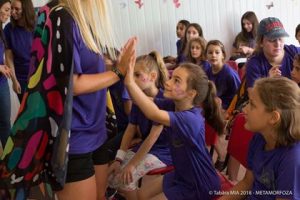 Music booms out of the chapel as we start to sing our camp hymn: "Biruitor". Ping-pong balls fly around the room as campers scream their team name during icebreaker time. Then a skit illustrates the message of the day and how a relationship with Christ changes everything: our hearts, our minds, and our relationships with others. Each message comes from a section of Romans chapter 12. We present the gospel on Tuesday and share how God takes our past and sinful state then transforms us into a new creation with a new hope and purpose. Early each morning, we rise to discuss how God is moving in the campers' lives and the decisions made in each counselor's group. All of the staff, counselors, and American team members gather in a circle with cups full of coffee to pray over and plan each day. As the days pass, we rejoice in all the metamorphosis and transformations among the campers: decisions to follow Christ, to rededicate their lives, and to follow the call of ministry in their lives.
But the closing ceremony on Friday is not the end of God transforming their lives. Campers are contacted and invited to join a 12 Step Discipleship program: this guides new believers in basic spiritual disciplines alongside one of their counselors or staff. Those that complete the program are invited to a Champion's Weekend when we celebrate their work and offer them to join us in ministry by becoming a camp counselor. We even have five counselors and staff who are following God in faith to the Bible Institute in Hungary to intensively study His Word. The Lord's fingerprints are all over my summer with LIFE Romania because He is transforming hearts and lives throughout this entire ministry: campers, counselors, staff, and myself.
In total, LIFE Romania has lead 13 weeks of camp, with over 800 campers, and over 400 decisions to follow Christ.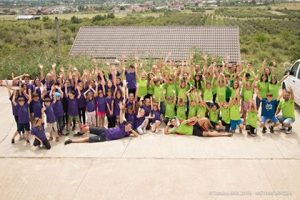 Please continue to pray for all the campers and those touched by LIFE Romania; that they would seek to know Christ deeper and follow Him where He leads us.
By Erin Grant, Fruit Cove Baptist Church and LIFE Romania, August 16, 2018