The 78thannual Daytona Bike Week took place March 8-17, 2019 in Daytona Beach.  Touted as the world's largest motorcycle event, about 300,000 bikers gathered for a week of concerts, street festivals, parades and more.  And all week, Christians with various ministries were out witnessing to the biker tribe, seeing lives changed as the gospel was shared. Daytona Biker Church and Faith Riders Motorcycle Ministry were two groups on hand to witness and serve. Many of their volunteers experienced the joy of sharing their faith for the very first time.
A biker himself for over 40 years, Jim Terry pastors Daytona Biker Church, Daytona Beach. The church started in June 2018 and meets in the Halifax Baptist Association Building. "Church isn't about being inside the walls, but being out in the community", said Pastor Terry, and he likes to see his folks challenged to grow in their faith through evangelism.  He spent several weeks prior to Bike Week training his members to be ready to "get out-[and] talk with people about their life and faith." They learned to avoid the word "saved", and instead talk about their relationship with Jesus Christ. The church set up a tent outside of Boot Hill Saloon on Main Street. 20 Daytona Biker Church folks, together with Heaven's Saints Motorcycle Ministry, Tampa, handed out Bibles, bottles of water, and pamphlets while offering to pray with folks.  Pastor Terry said that the response from his members was "phenomenal". Members' comments included: "I never guessed that I could pray with someone on the street face-to-face"; "I was in the right place at the right time"; and "I've enjoyed sharing the gospel!"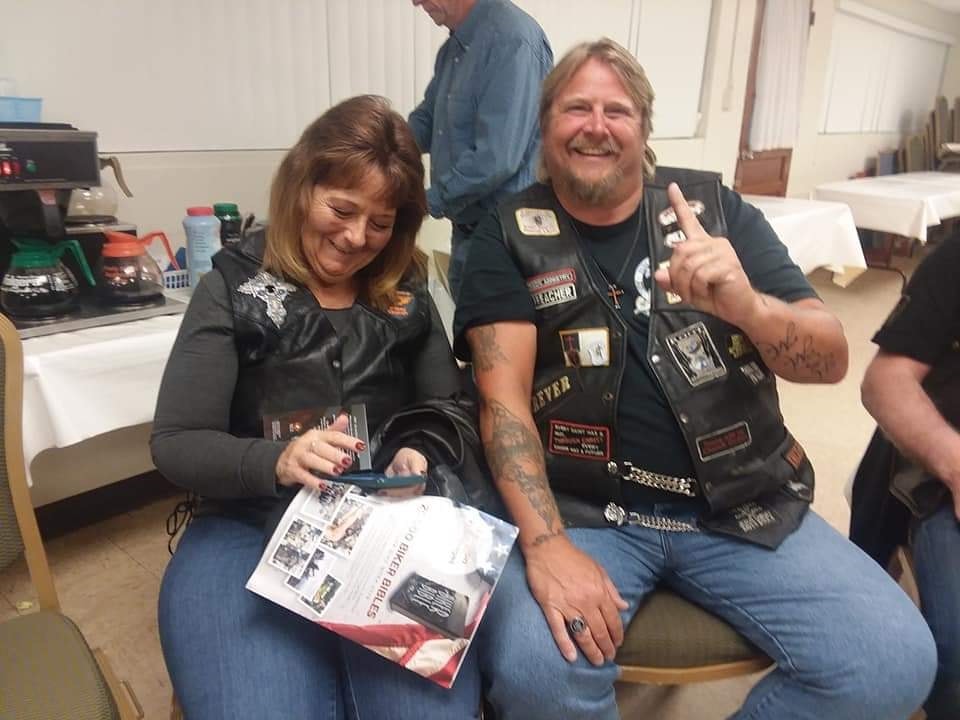 Faith Riders Motorcycle Ministry was also out in force during Bike Week. Begun in 2002 at First Baptist Church at the Mall in Lakeland, Florida, the ministry now has over 350 chapters in 29 states (and two in Cuba). Mike Stewart, National Director for the past three years, and member at Hibernia Baptist Church, Fleming Island, said there were 215 Faith Riders volunteers from 13 different states who came to Daytona.  With their tent set up at Daytona International Speedway, they also gave those bikers who heard a gospel presentation the opportunity to register to win a brand new Harley-Davidson motorcycle (won this year by Donald Searls). David Burton, a Faith Rider for nine years, shared the results of their week: the gospel was presented 2,453 times, and 280 prayed and received forgiveness through Christ!  Mike Stewart loves seeing volunteers experience the joy of sharing their testimony for the first time.  "When they share their faith, an incredible disciple-making process occurs. They are ready to go home and stand shoulder-to-shoulder with their pastor and become a light in their community."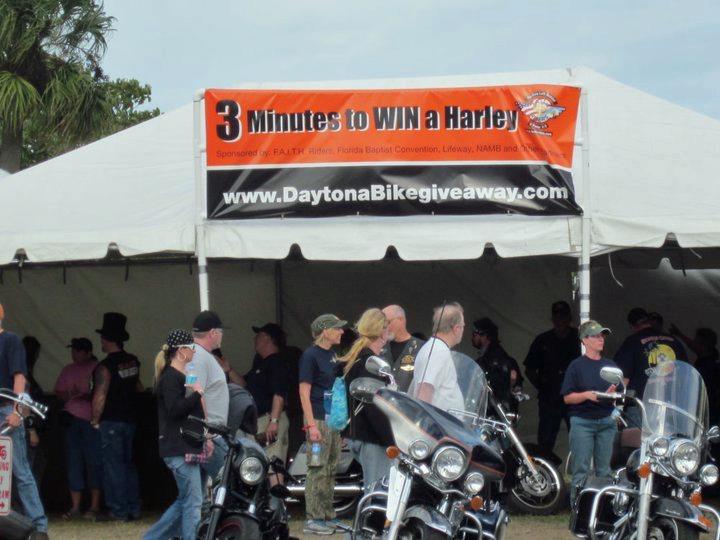 Daytona Bike Week 2019 is now history, but the joy of Jesus Christ remains in each willing heart – the joy of those who received salvation and the joy of those who shared.