Pictured Above: 9 young men baptized after receiving Christ as their personal Lord and Savior.
ST. PETERSBURG–Churches connecting with public schools are making eternal differences in the lives of students and their families across the state.
Through Huddle Touch, a ministry whose motto is "Breaking the Huddle and Touching the Community," local churches partner with schools to provide nourishment, both sustenance and spiritual, to athletes and sports teams within public schools.
Micah Poole, minister and missionary at New Philadelphia Ministries in St. Petersburg, has found that Huddle Touch ministry can impact an entire school for Christ. He leads Bible studies for students and coaches attending St. Petersburg's Gibbs High School, which are videotaped and posted on the Huddle Touch Facebook page.
At a recent Bible study, "20 young men rededicated their lives back to Christ," Poole reported.
This past September, Northeast High School football player Jacquez Welch collapsed on the field during a football game and never regained consciousness. Doctors found that a pre-existing, undiagnosed brain condition called arteriovenous malformation or A-V-M killed the young player.
After watching one of the videos, Welch's grieving mother asked Poole to speak at her son's wake. Since then, the family have become members of the church.
Following the service, Poole and coworker Allen Lambert met with two mothers and one of their sons, a high school senior, who attended the service. "We spent an hour after the service speaking to them," said Poole. Subsequently, the three made professions of faith and have decided to join New Philadelphia Ministries.
Founded in 2010 by Jeffery Singletary, catalyst for the Florida Baptist Convention's central region, Huddle Touch connects with school administrators and then assigns a life coach, like Poole, to the high school in a support role.
"Life coaches share their skills and faith within the context of a sports environment while providing a nutritious meal," to the players, Singletary explained. "As opportunities present themselves, they create an atmosphere of fun, sharing encouraging, uplifting and motivating messages of hope."
Establishing these relationships takes patience, as William "Skip" Cook, lead pastor at Gateway Baptist Church, knows well. "It took me 11 years to get into Northeast High School," he said. "Dr. Singletary built the bridge through Huddle Touch for me and I entered three years ago. You have to make connections and build relationships."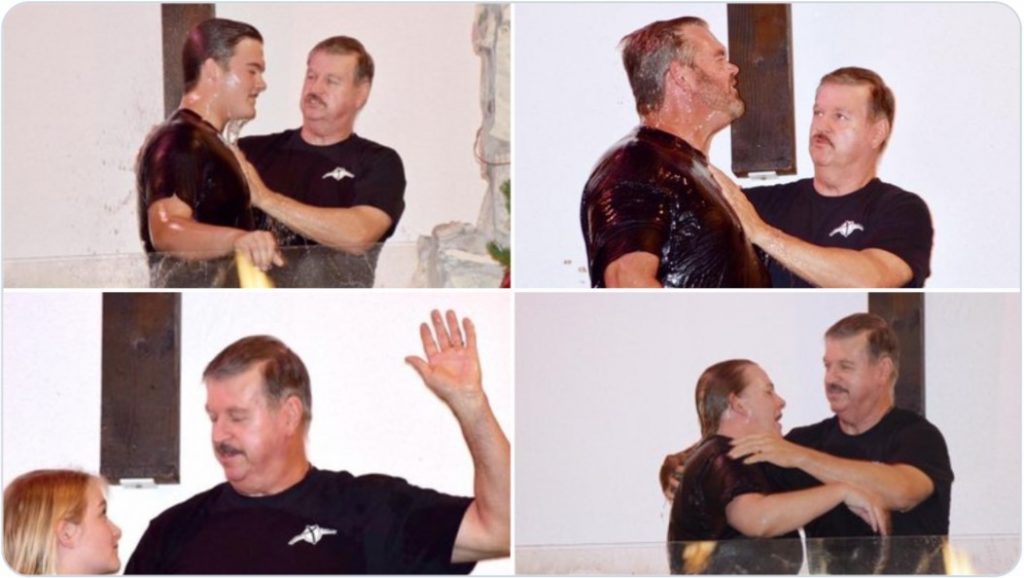 Rather than "going in with guns blazing," Cook was simply present, a consistent fixture, observing, gaining trust, and lending support.
"If a player is injured on the field, I go to the hospital with them. I consider myself their pastor. They are to me an extension of our church membership." Cook has baptized several players and their families have become members of Gateway Church.
When students were devastated by Jacquez Welch's death, Singletary, Cook and Zelvis Applin, pastor at South Hills Church in Sun City, provided grief counseling to the football player's teammates. Huddle Touch is now part of the Northeast High School's Viking family.
Huddle Touch has ministries with 68 schools and 82 teams, including six colleges and universities. The organization currently serves 24 high schools and two colleges in the Tampa Bay area, reaching 35 teams, 1,100 students and 148 coaches.
At this time, Huddle Touch ministers to football and basketball teams. In 2020 its leaders will launch ministries for volleyball, golf, and soccer programs.
Huddle Touch patiently furthers the Kingdom one soul at a time. In 2019 the ministry witnessed 450 first-time decisions for Christ and 145 recommitments to Christ.