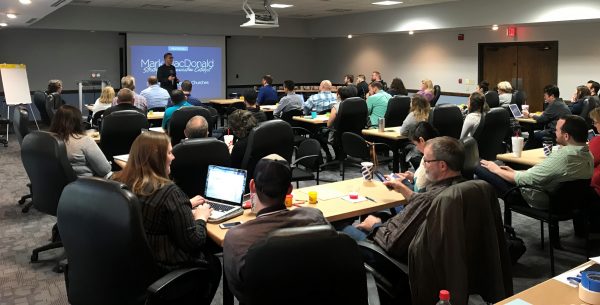 3 reasons your church needs a communication strategy
Many Southern Baptist churches around the country are grappling with how to remain relevant in a society that struggles to comprehend the value and benefits of church membership and attendance. But some Florida Baptist churches are discovering that with a communication strategy in place, the secret to engaging the surrounding community isn't really a secret at all.
So what can an effective communication strategy do for your church?
Be relevant.
Many churches fall into the trap of creating individual brands for each ministry on campus. Buck Buchanan, pastor of worship ministries at Mission Hill Church in Temple Terrace, said his church bought into that trend and it ended up eroding the overall unity of the church. Plus, he said, it was confusing for outsiders.
"The community doesn't know what these brands mean," he said.
Leaders at Mission Hill went so far as to not only rebrand but also rename the church, which was formerly known as First Baptist Church of Temple Terrace. Buchanan said the new name is more representative of who they are as a church and how they want to be seen in the community. Buchanan hopes the changes will help the community see the benefits of having a church as a neighbor.
"The community around us doesn't look at us as something they need or that we're even relevant," he said. "If we were gone would they wish we were still here because we made an impact on them?"
Be less busy.
This was one of the advantages that had a major impact on the leadership and staff of Pine Terrace Baptist Church in Milton. Like many established churches, Pine Terrace offers its members many options for small groups, fellowships, discipleship classes and activities. Senior Pastor Mike Wiggins said with two services on Sunday and a big schedule on Wednesday nights, there was a lot going on.
The church's new communication style is not about doing and offering more but by focusing on what they do best. Wiggins credits Florida Baptist Convention Strategic Communication Catalyst Mark MacDonald with helping them focus in on who they are as a church and what they want to be known for in their community. That knowledge freed them up to concentrate on the areas of ministry that were most relevant and really needed.
"The problem with a lot of churches – and we've dealt with it too – you see many churches chasing after programs and methodologies, which leads to an eclectic kind of approach to ministry and you end up not knowing who you are," he said. "Mark can help people get on target and understand themselves and do what they do best, not what the church across town is doing."
Be heard.
Communicating the right message to the right people should be an easy task to accomplish but with so many different means of communication available to churches, each with inherent pros and cons, getting the word out isn't always as straight-forward as it could be.
That was one of the issues the staff of Fort Caroline Baptist Church in Jacksonville was contending with. Senior Pastor Ricky Powell said after taking a serious look at how and what they were communicating, church leaders realized much of their messaging was "insider-focused."
"We were communicating in many different ways and using different types of media but we weren't clear on who the target audience is and what the best practices are," Powell said.
Fort Caroline is in the process of evaluating what they say, where they say it and who they're saying it to in order to streamline their message. Powell is certain a cohesive communication strategy will increase the likelihood that their message is truly heard by the people who need to hear it – namely, a community in need of Christ.
Want to know more harnessing the power of church communication? Be sure to attend an upcoming Church Communicator regional meeting near you!
Winter Springs – Central/East regions – June 4 – Register here!
Fort Lauderdale – Southeast region – June 5 – Register here!
Fort Myers – Southwest region – June 6 – Register here!
By Nicole Kalil, Florida Baptist Convention, May 22, 2018