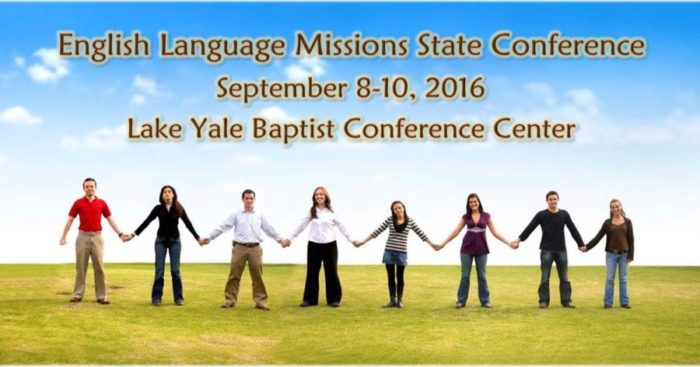 English Language Missions State Conference
September 8, 2016 @ 12:00 pm

-

September 10, 2016 @ 1:00 pm
---
English Language Missions State Conference | Friendship Connection
ONLINE registration:  Registration must be received by the Church and Community Ministries team by August 26, 2016.
COST: Includes conference fee and all meals (starting with lunch on Thursday and ending with lunch on Saturday).
$100 | Commuter – per person
$190 | Single Occupancy – per person
$150 | Double Occupancy – per peron
Conference Track options: 11 1/2 hours – select one
English as a Second Language | TELL Training manual is required for this class.
Advance Training | If you have completed the basic training already, manual not required.
HOW TO Instructions: to order the TELL Manual (required for the English as a Second Language track).
ORDER: "TELL Manuel" (Teaching English Language Learners the Good News)
Tentative Advanced Session (Print Out)